Rhode Island State Police arrest Connecticut man after serious crash on Route 6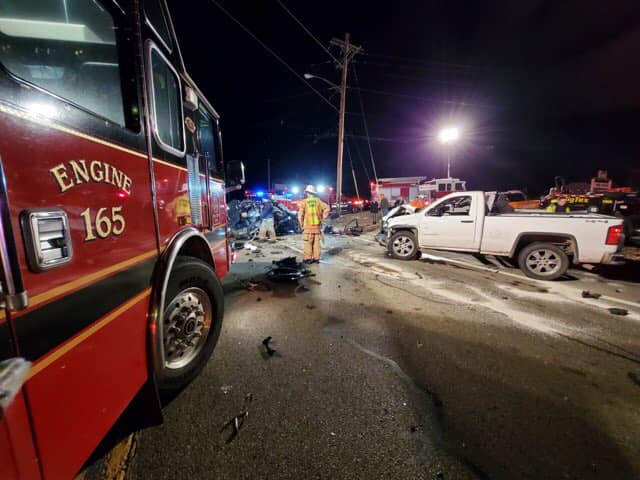 KILLINGLY, C.T. (WLNE) – Rhode Island State Police announced the arrest of a Connecticut man after a crash on Route 6 Friday night.
Rhode Island State Police and the Foster police Department investigated a crash involving four cars on Route 6, at the intersection of Cucumber Hill Road.
Troopers from the Scituate Barracks, Traffic Safety Unity, Collision Reconstruction Unit, and Forensic Services responded to the crash.
After investigating, authorities determined that Steven Casey, 43, of Mansfield, Connecticut was driving his Chevrolet Silverado erratically and at a high rate of speed on Route 6 West in Foster.
Police said at the intersection, Casey struck the rear of a Toyota Camry that was stopped in the left lane, waiting to turn left onto Cucumber Hill Road.
State police said the collision caused "extensive damage" to the Toyota and pushed it into the eastbound lanes of Route 6.
The Toyota was then hit on it's passenger side by a GMC Sierra, causing heavy damage.
Authorities said Casey's car then continued westbound, and struck the rear end of a tractor trailer.
The driver of the Toyota Camry suffered "moderate" injuries and was transported to Rhode Island Hospital.
Additionally, the passenger in the front seat sustained life-threatening injuries and was transported from the scene to Day Kimball Hospital in Putnam, Connecticut before being transported by helicopter to UMass Medical Center.
The other drivers were not injured.
Casey was transported to Rhode Island Hospital and treated for minor injuries before being released.  He was brought to Rhode Island State Police Headquarters where he was processed and held overnight pending a morning arraignment for the following charges:
Driving to endanger resulting in serious bodily injury (felony)
Driving to endanger resulting in bodily injury (misdemeanor)
Rhode Island State Police said he will also be considered a probation violator on a charge of assault with intent to commit burglary.
State police say the accident is under investigation.  Anyone with information is asked to call State Police Headquarters at (401)-444-1000.