Rhode Island woman expressing concerns after receiving COVID test result- before getting tested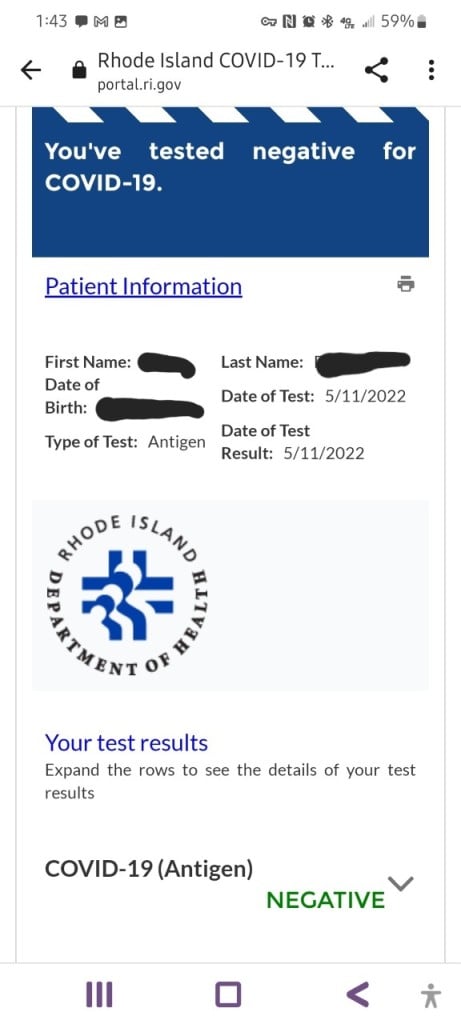 PROVIDENCE, R.I. (WLNE) – A West Warwick woman is expressing concerns about COVID testing in Rhode Island- after she says she received a negative COVID result– before she even got tested.
Torie Privitera says she booked two tests after developing COVID like symptoms on Wednesday. Both were scheduled for the drive-thru state run site at Wickford Train Station in North Kingstown.
While waiting in line Privitera says she got an email just before 1:45 p.m., saying she had a negative result- but she did not take the test until 2 p.m.
She says after deciding to not go to her next appointment after the email she recieved- she got another email saying she had a negative result.
Privitera says she reached out to the Rhode Island Department of Health to tell them what happened and was told it was a technical error.
A spokesperson for the department of health sent ABC6 News the following statement.
"We have not seen a trend along these lines. This appears to be a site error that impacted this one person. It could have resulted from a data entry issue. We have done almost 8 million tests in Rhode Island since the start of the pandemic. While very rare, data entry issues sometimes do occur. We are working with the team on site to address this."
"I'm just concerned like I hope they really investigate it. I would hate if a lot of people were getting negative results and they were positive. I am just concerned," Privitera adds.