Rhode Islanders Scrambling For Snow Fall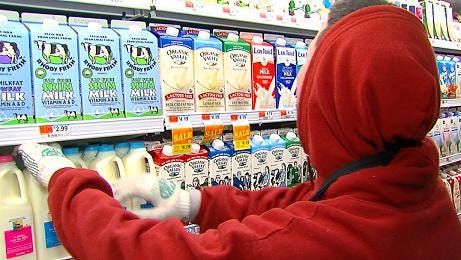 Snow shovels, eggs, and milk are vanishing off store shelves tonight. It's nothing close to a Nor'easter, but since we've barely had any snow this winter, people are a little antsy about what's coming our way.
Starting at 2 am Saturday, trucks will be revving up and hitting the streets. As plowers get some sleep to pull an all-nighter cleaning the roads, people were hitting the stores tonight getting ready to be snowed in.
From snow shovels and salt, to eggs and milk, stores had long lines of people picking up necessities.
Felipe Nazaro says he's ready to tackle some snow.
"We're here for some shovel and some ice melt," said Nazaro.
Marty Kerzer is ready to do some shoveling for the first time in a while. He just bought a house.
Kerzer said, "I'm coming from a condo so now I have to start shoveling my driveway."
Benny's in Providence said 100 shovels were scooped off their racks today, 300 bags of salt were carried away, and there hasn't been much use for sleds this winter, until now.
Benny's store manager John Milhomens says, "I've really seen some sleds going out, tubes, regular sleds. It's the first time I've seen them really going out this year we have some accumulation I think the kids are going to have some fun finally."
Just down the street at Whole Foods, shoppers are loading up with groceries.
Whole Foods stocker John Roias says it's been non-stop ever since he got to work.
"It's crazy it's like three holidays hit us at once, I guess because of the snow tomorrow everyone is trying to buy their eggs and milk."
If this were a normal New England winter, the crowds wouldn't be phased by three to six inches of snow.
Kerzer said, "iIve been in New England for 35 years so I'm not worried about the snow."
Nearly 450 workers will be starting up their trucks as early as 2 am Saturday morning. Snow is expected to start around 5 o'clock tomorrow morning and taper off early evening. The Rhode Island Department of Transportation expects everything to be back to normal by Saturday night.