Rhody Rallies in Second Half to Hand Duquesne First A10 Loss of the Year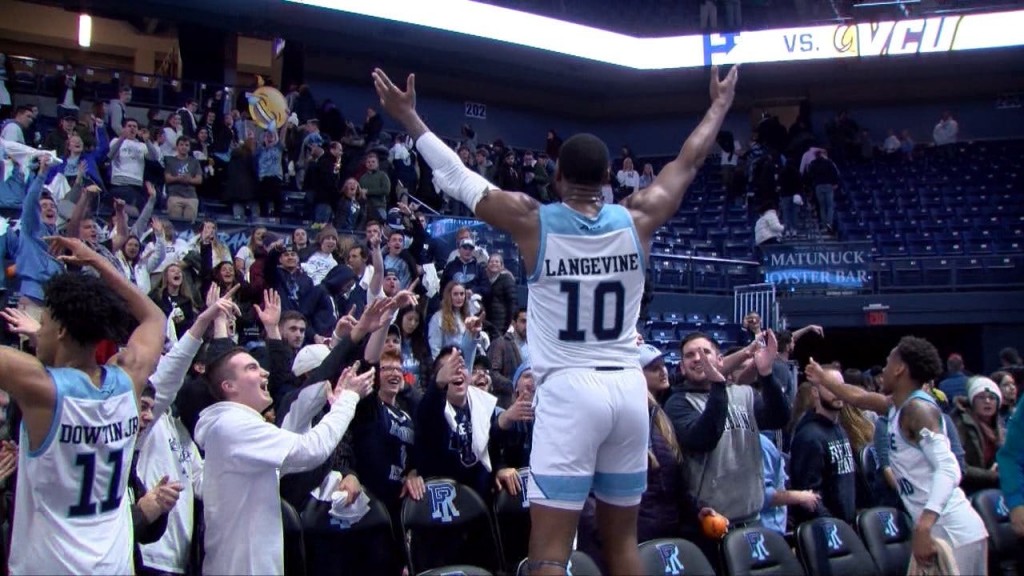 Rhode Island used an absolutely dominant second half to take down first-place Duquesne 77-55 Wednesday night at the Ryan Center. The Rams outscored the Dukes 47-17 over the final 20 minutes to hand Duquesne its first A-10 loss of the season.
Duquesne got off to a quick start and led Rhode Island through much of the first half. Rhody led briefly, as a Fatts Russell 3-pointer gave the Rams a 13-10 advantage at the 12:55 mark. The Dukes doubled URI's output over the next 10 minutes however, using a 22-11 run to pull ahead 32-24. Duquesne maintained the eight-point advantage and took a 38-30 lead into the break.
Duquesne struck first in the second half, pushing its lead to 10 (40-30) after a jumper by Marcus Weathers. Rhody battled its way back though, using defense to create offense. Another trey by Russell capped a 16-1 push that put URI ahead by five (46-41) with 13:52 remaining. During that stretch, URI used three steals, two blocks and five defensive rebounds to erase the double-digit deficit.
Duquesne got five straight points to tie the game at 46, but it was all Rhode Island from that point on. Over the next eight minutes, Weathers was the only Duke to put the ball through the hoop, scoring seven straight points before fouling out with 6:55 to go. Meanwhile, Rhode Island kept its foot on the gas, using an off-balanced, shot clock-beating 3-ball from Jeff Dowtin to take a 15-point lead (67-52) with 4:26 remaining.
The Rams continued to play lock-down defense, limiting Duquesne to just three makes from the line through the remainder of regulation. Another long-range jumper by Dowtin – this time with 17 ticks left on the clock – sealed the 77-55 win for Rhode Island.
Inside the Box Score
Rhode Island outscored Duquesne 47-17 in the second half, holding the Dukes to just four field goals on 24 attempts.
Rhody forced Duquesne into 17 turnovers while committing just six of its own, matching a season-low.
In holding the Dukes to just 55 points, Rhody has now kept its opponents under 64 points in each of the last five games.
Through six Atlantic 10 games, the Rams are now allowing opponents just 60.3 points per game.
Junior Fatts Russell led all players with 23 points and four steals. He also grabbed five rebounds and dished out three assists while committing zero turnovers in 38 minutes on the floor.
Senior Jeff Dowtin recorded 17 points, five assists, four rebounds and one steal. He also played 38 minutes without turning the ball over.
Sophomore Tyrese Martin registered his second double-double of the season, finishing with 13 points, 11 rebounds, two steals and one assist.
Redshirt sophomore Antwan Walker added eight points, six rebounds and two assists for the Rams.
Senior Cyril Langevine had six points, five assists, three rebounds, two blocks and one steal.
Up Next
Rhode Island is back in action Saturday at St. Bonaventure. Tipoff at the Reilly Center is set for 3 p.m.