Rhody Rallies To Beat Nicholls State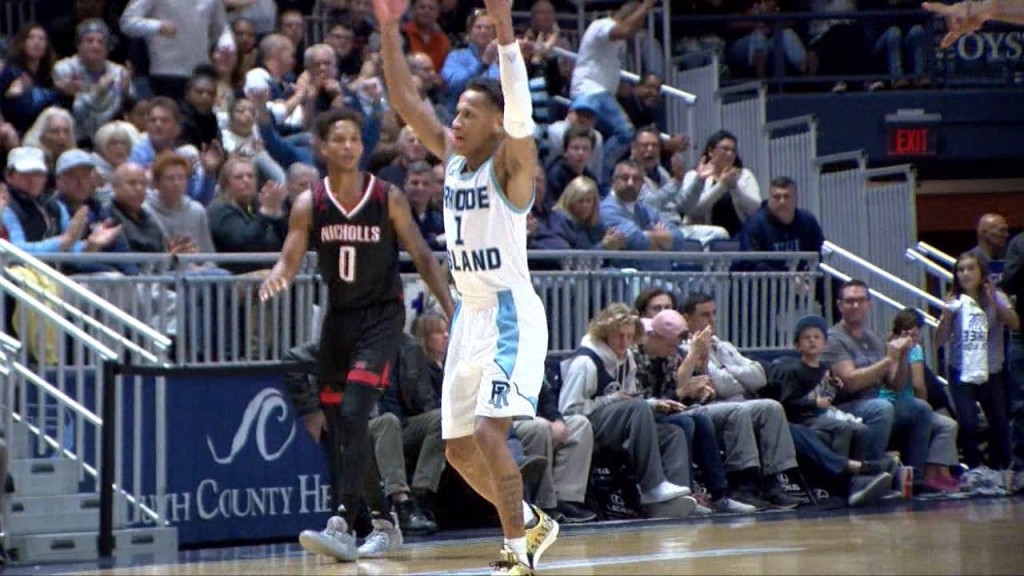 Rhody Starters
Harris, Martin, Russell, Dowtin, Langevine
Nicholls Starters
Hunter, Johnson, McClanahan, Harvey Jr, Alatishe
How it Happened
In a back-and-forth contest that had 10 lead changes and 15 ties, Rhode Island outlasted Nicholls 70-65 Tuesday night in the first game of the Jersey Mike's Jamaica Classic. Fatts Russell led the way for URI (3-1) with a game-high 24 points, six assists, and five steals.
The Rams were closely contested by the visiting Colonels (2-3) throughout the first half. Midway through the first half, Russell exited the game with an apparent injury. He returned shortly after and provided a spark, scoring seven consecutive points during a 10-0 Rhody run that gave the hosts a a 26-21 lead with 4:37 remaining in the first. The half concluded with Russell tossing an alley-oop slammed home by Jacob Toppin to give Rhode Island a 32-28 lead at the break.
The Colonels opened up the second half on a 10-0 run and steadily built their lead grew to as much as seven, 57-50. An 8-0 Rhode Island run put the Rams in front, with Cyril Langevine capping the run on a layup after he rebounded his own missed free throw. A Tyrese Martin 3-pointer, a Langevine and-one and a Martin steal that led to a fast-break layup for Russell helped URI establish a 70-63 lead and secure their third win of the season.
Inside the Box Score
Junior Fatts Russell led all scorers with his 24 points, and he had six of the team's 14 assists.
Russell added five steals, the third time in his career he has had five or more in a game.
Russell was 9-for-9 at the free throw line, leading a team effort in which the Rams were 19-of-23 collectively, good for 82.6 percent.
Rhode Island had a slight 19-18 edge in points off turnovers.
Senior Cyril Langevine recorded 10 points and 11 rebounds in just 23 minutes. Despite being limited to 23 minutes by foul trouble, he recorded his second double-double of the season.
Sophomore Jermaine Harris tied his season-high with 10 points. He was a perfect 4-for-4 at the free throw, grabbed four rebounds and notched one assist and one steal.
The Colonels came into the game shooting 33.8 percent from 3-point territory. The Rams defense held them to just 21.1 percent.
What's Next?
Rhode Island will travel to Montego Bay, Jamaica to face North Texas in the Jersey Mike's Jamaica Classic and 4:30 p.m. on Friday, Nov. 22.