Rhody Recovers From First Half Struggles To Pull Away From Saint Joseph's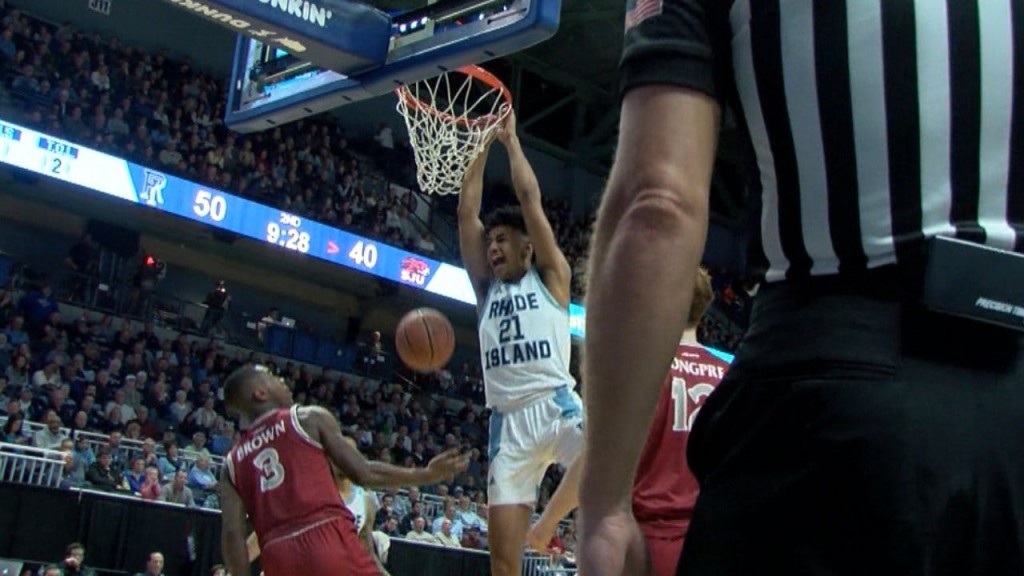 After a back-and-forth first half, Rhode Island pulled away from Saint Joseph's after halftime, coasting to a 73-55 victory Saturday afternoon. The Rams outscored the Hawks 38-24 in the final 20 minutes to earn their 19th win, exceeding Rhody's win total from a year ago.
URI put the game out of reach with a 10-0 run midway through the second half. The spurt was sparked by Jacob Toppin and Fatts Russell. Toppin scored 10 of his 12 points and recorded a block over a stretch of 3:26. A monster dunk by Toppin gave Rhody a 12-point lead (50-42) with 9:27 left to play. Toppin then scored eight of URI's next 11 points, capping the run with a trey that put the Rams up by 20 (63-43) with six minutes remaining on the clock. Russell continued his stellar junior campaign, scoring 12 of his game-high 18 points after the break.
Tenacious defense and controlling the glass continued to be a strength for the Rams. They held the Hawks to 25.9% shooting from the field and forced 12 turnovers in the second half. URI outrebounded Saint Joseph's 44-35, led by Cyril Langevine and Tyrese Martin, who tied for team-high honors with 11 each.
The Hawks were unable to get back in it down the stretch as Russell sandwiched his third 3-pointer of the game between seven Rhody makes from the free throw line, ending the game with URI on top 73-55.
Inside the Box Score
Senior Jeff Dowtin recorded a season-high four steals and matched his season best with eight assists. He also scored 14 points, had seven rebounds and blocked one shot with zero turnovers in 36 minutes on the floor.
Junior Fatts Russell scored in double figures for the 12 game in a row, leading all players with 18 points on 6-of 12-shooting. He also dished out five assists and had two steals.
Sophomore Tyrese Martin finished with 13 points and 11 rebounds for his fourth double-double of the season.
The guard trio of Dowtin, Russell and Martin combined to shoot 45 percent from the field (18-40).
Freshman Jacob Toppin added 12 points and a pair of rebounds. He was 4-for-5 from the field and 3-of-4 from the foul line.
Senior Cyril Langevine registered seven points, 11 rebounds, three blocks, two assists and one steal. Ten of his 11 boards came in the first half.
Rhode Island scored 18 points off 19 St. Joe's turnovers.
The Rams also had the advantage in rebounding (44-35) and outscored the Hawks in the paint (32-22).
Up Next
Rhode Island is back in action next Saturday at Davidson. The game, which will be televised nationally on CBS Sports Network, is set to tip off at 5:30 p.m.