RHP Anthony Ranaudo Joins PawSox Today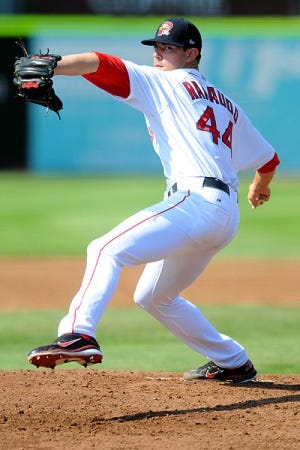 PawSox Release
RHP Anthony Ranaudo Joins PawSox Today
The Boston Red Sox today promoted heralded pitching prospect
RHP Anthony Ranaudo to Pawtucket from Double-A
Portland. Ranaudo, 23, was 8-4 with a
2.95 ERA in 19 starts for Portland
this season. He was tied for 6th
in the Eastern League in Wins, 3rd in ERA, and 1st in
both WHIP (1.09) and Batting Average Against (.204). His overall line with the Sea Dogs – 109.2
IP, 80 H, 39 R, 36 ER, 40 BB, 106 SO.
Anthony was brilliant during the first two months of the
season going 6-1 with a 1.48 ERA in his first 10 starts through the end of May
(9 ER in 54.2 IP). He gave up 0 or 1 ER
in 8 of his first 10 starts and in the other two he allowed 2 ER and 3 ER. On June 4 he was touched for 7 runs in 4.2 IP
but was not involved in the decision. He
bounced right back in his next start on June 13 with 7.2 shutout innings on
just 2 hits with a season-high 13 strikeouts in a 2-0 win vs. Erie. His last win came on June 30 at New Hampshire, 13-5 as
he went 0-2 with a 3.86 ERA in 4 starts in July. His final start with Portland
came last Tuesday (July 30) in a 4-0 loss at Richmond – 6.2 IP, 4 H, 4 R, 4 ER, 1 BB, 7
SO. That bumped his ERA up to 2.95 which
is his season-high.
Ranaudo was Boston's sandwich
pick between the 1st and 2nd rounds (#39 overall) in the
2010 draft after a standout career at Louisiana State
University. He was 12-3 with a 3.04 ERA for the Tigers in
2009 as a sophomore and was the winning pitcher in the clinching game as LSU
won the 2009 College World Series. He
entered the 2010 draft rated as the top pitching prospect by Baseball America.
The 6'7″ righty from New Jersey
split the 2011 season between Greenville (low-A)
and Salem
(high-A) going a combined 9-6 with a 3.97 ERA.
He had 117 strikeouts in 127 innings to rank 6th among all
Red Sox minor league pitchers in SO.
Following the season he was rated as having the Best Curveball in the
Red Sox system by Baseball America. Ranaudo made just 9 starts for Portland last season (1-3,
6.69) as he was on the disabled list twice with groin and back injuries that
limited him to only 37.2 innings in 2012.
However, he has bounced back in a big way this season and
was rewarded in July by starting the Eastern League All-Star Game and pitching
for the U.S. team during the
Future's Game in New York.