RI Bakery's version of the Cronut®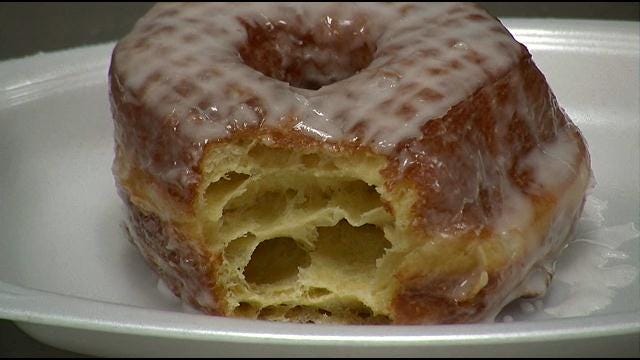 By Dana Griffin
@danaRgriffin
MIDDLETOWN, RI- An imitation of a popular food trend – the Cronut® has made it to Rhode Island.
The donut–croissant hybrid went on sale today in Middletown. We got a behind the scenes look at how this pastry is prepared and why today, the bakery already had to make a name change to avoid a lawsuit.
Inside Ma's Donuts and More, in Middletown, owner Valdemar Leite is whipping up his latest addition to this 20-year-old business.
He's hoping the Cronut will bring in a crowd. He watched it happen at a bakery in New York where the croissant–donut hybrid was created and people still wait in line for hours.
"You can taste the donut and you can taste the croissant. It's very buttery, you know, different. It's very hard to explain til you really taste one," said Leite.
But his is not the original recipe.
Leite adds, "This is a product that comes from New Jersey, halfway done and we finish it off and do our own style."
Leite created his own toppings: raspberry cream cheese, cookies n' cream, and honey dip, which are all made in house.
His imitation Cronut sells for $2.25, compared to the $5 Cronut, originally created in New York, which has been trademarked. Because of that, Leite isn't allowed to use the name 'Cronut' . When we brought that to his attention, he immediately changed the name to Cro–donut to stay out of trouble.
To find out if it's a winner, we took some cro–donuts to the capital city to see what people think.
Chris Shatas said, "It's very good. It tastes better than a donut I think."
"I think it's great; chewy, gooey, and sweet. It's a good donut," said Marcy Reyes.
©2014 ABC6/WLNE-TV. All Rights Reserved.