RI, Conn. cops seize 46 pounds of pot, arrest 3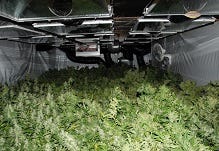 By The Associated Press
DANIELSON, Conn. (AP) _ Rhode Island and Connecticut authorities say they've seized more than 46 pounds of marijuana and arrested three men while busting an illegal pot distribution network.
Rhode Island State Police say the investigation with Connecticut authorities uncovered pot dealing operations with numerous growing facilities in Scituate and Foster in Rhode Island and nearby towns in Connecticut.
Authorities say they executed search warrants in recent days in Rhode Island in Scituate, North Smithfield, Glocester and Coventry, and in Danielson, Conn. Police say they seized a total of 248 marijuana plants, more than 46 pounds of processed pot and more than $300,000 in cash.
Police arrested three Connecticut men on drug charges _ Jeremy Corrao of Danielson, Timothy Warner of Putnam and Christopher Goyette of Putnam. It's not clear if they have lawyers.
(C) The Associated Press