Update: Over 100 Rhode Islanders have reported receiving seeds from China in the mail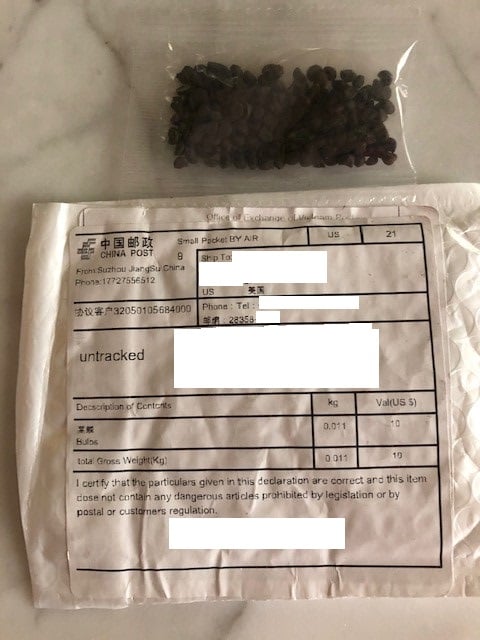 PROVIDENCE, R.I. (WLNE) – The Rhode Island Department of Environmental Management said on Thursday that over 100 Rhode Islanders have now reported receiving foreign seeds in the mail.
Agriculture officials in several states have issued warnings after many people received shipments of the seeds in the mail.
"When unlabeled seeds enter the country without evidence of being inspected and certified, there is an increased risk that they may produce invasive or noxious weeds, or harbor plant pests that could threaten agriculture or the natural environment," said Matt Green, an environmental scientist in DEM's Division of Agriculture. "DEM and USDA are working closely to safeguard agriculture and protect the environment and consumers while facilitating trade and movement of agricultural products."
On Wednesday, RI DEM said that the U.S. Department of Agriculture (USDA) is still working on a response plan regarding collection of the seeds.
If the public has grown any of the seeds, you are asked to seal any plants, pots, and soil in a plastic bag and keep them at your address until further notice. The USDA is interested in collecting and inspecting the seeds, so they want to receive them intact.
Rhode Island agriculture officials are aware of this unfolding issue and are strongly urging residents who have received the unsolicited packages not to open them.
If you do receive an unexpected package of seeds, RI DEM suggests doing the following
Not plant them or throw them away
Keep all packaging including the label
If the package is not opened, don't open it
Wash hands after handling the package or seeds if the package is opened
Make a report to DEM to include your name, address, and phone number.  The report can be made by phone by calling the Division of Agriculture at 401-222-2781 X4516 or by email at DEM.SPRO@dem.ri.gov
DEM staff will respond as soon as possible to all inquiries and will advise on next steps as we receive more information from the USDA
More information on the seeds can be found on the DEM's website.