RI DOH suspends doctor's license after 'deliberately' exposing patients and staff to COVID-19
The investigation also details complaints from patients and employees who reported that Dr. Farina has a temper.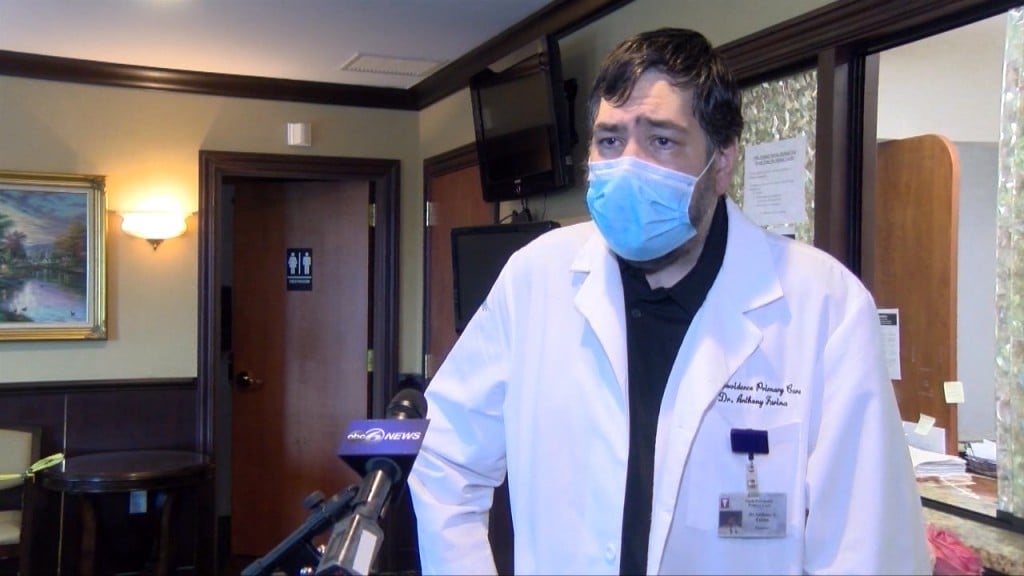 NORTH PROVIDENCE, R.I. (WLNE) – Dr. Nicole Alexander-Scott, Director of The Rhode Island Department of Health has ordered the license of a North Providence doctor to be emergency summarily suspended. Investigators determined that he deliberately exposed his staff and patients to COVID-19, endangering the community.
Dr. Anthony Farina, a graduate of Brown University School of medicine, runs six medical practices in the state. According to a 21 page document issued by the Department of Health, Dr. Farina has been suspended from practicing medicine indefinitely.
He has nine complaints against him, with four of the most recent complaints occurring in 2020. The complaints prior to 2020 deal with an extent of issues, such as: the release of medical records, referrals, being difficult to work with, issues with the up keep of equipment and prescribing controlled substances to family members.
Complaints in 2020 began over the summer, and consisted of people not wearing masks or social distancing. During an inspection, the state health inspector did note that employees were either not wearing masks or wearing them incorrectly at the time. In addition, there were no logs of when things were being cleaned, no COVID plan, or posters displayed showcasing protocols.
The four most recent complaints came into RIDOH between December 8 and December 13, 2020, anonymously.
One person complained that Dr. Farina has COVID, but was still working.
The second complaint stated, that this patient went to the office for an appointment, but left because he was running around throwing things and the atmosphere was tense.
The third person complained, Dr. Farina had COVID and was not wearing a N-95, was still working and that other staff members were also sick.
The fourth complaint issued said, Dr. Farina tested positive for the coronavirus at the end of November and continued working, knowingly infecting staff and patients. This person also stated that Dr. Farina altered his personal medical record to say he became symptomatic at a different time.
Three of the four witnesses testified to the board with the Rhode Island Department of Health on January 7, 2021, saying that if the doctor knew they were testifying, they would suffer consequences.
A witness says he declined a COVID test when he was symptomatic in November, and another witness says he had symptoms consistent with COVID in November and continued to come to work while wearing a N95 mask that did not cover his nose.
Dr. Farina told the board that he had a sinus infection in November, but then tested positive for COVID, nine days later. He also state that he properly isolated and wore a mask.
The investigative committee determined that Dr. Farina was not credible.
Dr. Farina's practices are identified as the Center of New England Primary Care Inc., Center of New England Urgent Care Inc., Physicians Weight Loss & Medical Services Inc., North Providence Primary Care Associates Inc., North Providence Urgent Care Inc. and East Greenwich Urgent Care, Inc.
The investigation also details complaints from patients and employees who reported that Dr. Farina has a temper. One called him frightening.
"He's just a nasty man honestly," said former employee Tressie Seymous. "Completely unprofessional. He yells at everybody."
Seymour says she worked at his offices in North Providence and Coventry for a few months in 2018. In that time, she says she was constantly yelled at, and even called stupid.
"He made everybody so uncomfortable that nobody wanted to work there," said Seymour.
ABC 6 News interviewed Dr. Farina over the summer when his practice in North Providence was shut down for not abiding by Covid-19 protocols.
The Brown Medical School graduate was upset at the time that they weren't given any warning by the Department of Health.
"I'm not surprised at all," said North Providence Mayor Charles Lombardi of the allegations.
Mayor Lombardi knows Dr. Farina well. A few years ago, Dr. Farina sued the town, which had been trying to tear down one of his buildings that was sitting empty and in bad condition. Dr. Farina responded by having a mural painted of the mayor on the side of the building.
The build was eventually razed.
The mayor says he's concerned because he knows many North Providence residents are patients of Dr. Farina.
"My hat is off to the health department for bringing this to a head. Really, really, really is, and I think it'll make for a safer environment for the town."
Dr. Farina's attorney, Dennis T. Grieco II, Esq. provided ABC6 News with a statement from the doctor responding to RIDOH's action:
"I strongly deny the false allegations made by the Rhode Island Department of Health that I at any time threatened the health of my patients. As a doctor, my first responsibility is to do no harm, and I take that oath extremely seriously. I want to reassure all of my patients that I would never place them in harm. I am appealing RI DOH's suspension of my license and am confident I will be thoroughly cleared of these false and misleading allegations."