RI GOP Meets to Endorse Candidates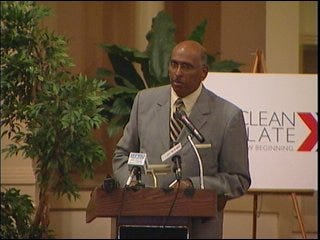 The Rhode Island Republican Party met at Rhodes on the Pawtuxet in Cranston Wednesday night to decide who it will endorse in this hotly contested election year.
As of air time at 11pm, the meeting was still going on, although word had already spread Wednesday that John Robitaille will get the nod over Victor Moffitt for the Governor's race.
But the attendees welcomes a special guest speaker at the event – national GOP Chairman Michael Steele.
And two other bits of news to pass along in Vote 2010: former Cranston Mayor Steve Laffey did not file with the Secretary of State's office to run for office, and the State Senate Majority Leader, Daniel Connors will not be running for re-election.