RI House to vote on $8.2 billion budget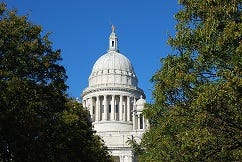 Dee DeQuattro
ddequattro@abc6.com
The Rhode Island House of Representatives will discuss and vote on an $8.2 billion dollar budget deal on Tuesday.
The bill passed the House Finance Committee last week and now will head to the floor where the 75 member body will get their say.
What's in the bill?
$30 million dollars toward education spending in Rhode Island City and towns.
$25 Million to start making good on "moral obligation bonds" borrowed to fund the failed 38 Studios. This is one of the most controversial issues. A number of lawmakers don't want to state to pay the bonds and have been outspoken on the issue, including the 6 member GOP Caucus.
Historical tax credits, at least $5 million of which could go to Providence's Superman building.
A temporary suspension of the liquor tax, on liquors and wine, not beer.
What's not in the bill?
The House Finance Committee removed a portion of the budget that decreased the corporate tax rate.
A repeal of the pets services tax and the taxi tax
New taxes- the new budget is void of any tax increases.
Tuition hikes- there will be no tuition hike at the states public schools
The meeting begins at 2 p.m.
(C) WLNE-TV 2013