RI kicks off flu vaccination campaign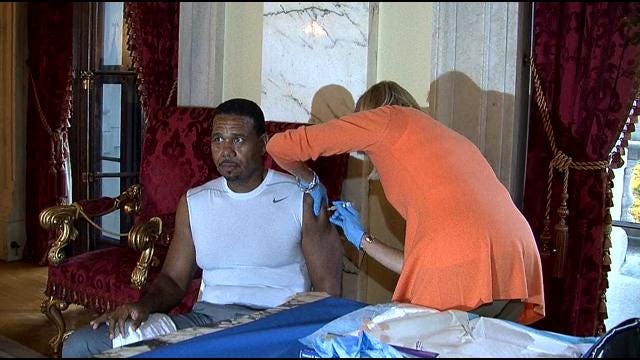 By: Melissa Randall
mrandall@abc6.com
Wednesday morning state health officials kicked off Rhode Island's flu vaccination campaign at the State House. Heath Director Michael Fine says now is the time to get the shot. Everyone 6 months or older should receive a vaccination.
"You need to get a flu vaccine every year. We can't protect you against all viruses but we can protect you against the flu," he said.
Last year nearly 640 Rhode Islanders were hospitalized from the flu. There were 32 deaths.
Providence College Friars men's basketball coach Ed Cooley was first in line for a shot. It was administered by RI's First Lady who happens to be a registered nurse.
"When you deal with athletes in particular– you can't have anybody sick. We need everybody on the same page. We talked about the habit of preparation and making sure that everyone gets vaccinated. It's important because we are all around each other every single day and we want to stay healthy," said Cooley.
Groups most at risk of getting the flu are kids, senior citizens, and healthcare workers. Pregnant women should also be vaccinated. It is safe to get a flu shot during pregnancy and it will protect the baby 6 months after delivery.
Last year about 500,000 people state wide were vaccinated. That's about half the population. The goal this year is three quarters or better.
There are between 400 and 500 clinics across the state that offers flu shots.
© WLNE-TV 2014
Follow me on Twitter @MelissaARandall