RI Lawmaker Wants Guns For Campus Cops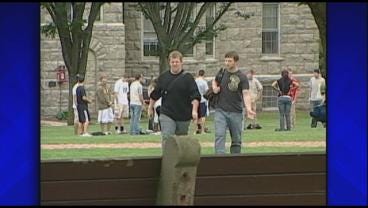 In the wake of the recent Virginia Tech shooting, one Rhode Island lawmaker is pushing to make campuses safer by allowing police officers at the state's public institutions to carry guns.
"We have nothing," Lt. Charles Wilson said when asked what he carries while responding to incidents at Rhode Island College, a job he's been doing for 19 years.
"We have nothing whatsoever. No weaponry. No batons. No pepper spray," Wilson reiterated. "And we're expected to make arrests."
Senator Glenford Shibley of Coventry is trying to change that by introducing legislation that would allow officers at the state's public colleges and universities to carry guns. He says the risk of not having them is just too high.
"To put them out in harms way to protect all of us is perplexing," Shibley said. "It could even be considered negligent."
Students at Rhode Island College have mixed feelings about the idea.
"I understand that they have a job, I just question whether or not they need a gun to do it," John Bean, a graduate student, said.
While that question goes before the General Assembly, Lt. Wilson waits and hopes that the consequence does not become a reality.
"If we don't have the proper tools and we are forced to respond to a situation, somebody will die," Wilson said. "Plain and simple. Somebody will die."
Roughly 85% of college campuses across the country have armed police officers.
Shibley plans to have the bill taken up when the General Assembly is back in session in January.