RI Man Arrested in Puerto Rico With Weapons on Plane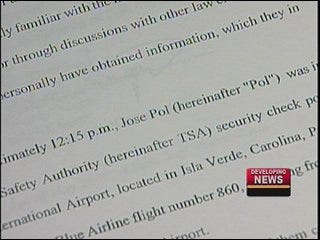 SAN JUAN, Puerto Rico (AP) – U.S. authorities have charged a man with attempting to board a flight from Puerto Rico to Boston with a stun gun, a switchblade knife, four box cutters, pepper spray and a flight simulator program in his luggage.
Prosecutors say Jose Pol, a Puerto Rico native who lives in Rhode Island, was passing through a security checkpoint at the island's main airport when TSA agents discovered the weapons in his
carry-on luggage.
U.S. authorities say they had not found any evidence linking the case to terrorism.
A woman who answered at a phone listing for Pol in Pawtucket identified herself as a relative but said the family did not want to comment.
FBI spokesman Harry Rodriguez said Wednesday investigators are trying to determine whether Pol has any affiliation with terrorist organizations.
Pol was to take a JetBlue flight when he was arrested Monday.