RI now has 43 COVID-19 deaths, 160 people in the hospital, 1,727 cumulative cases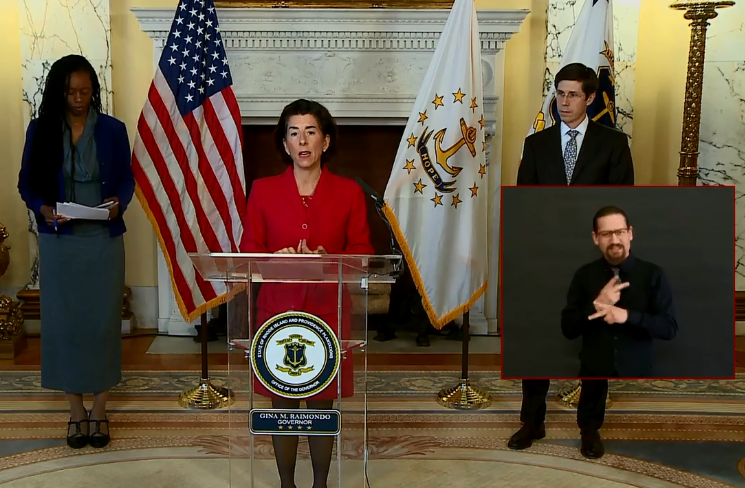 PROVIDENCE, RI (WLNE) – In her daily televised briefing Gov. Gina Raimondo announced that there were eight more COVID-19 associated deaths and 277 new positive cases.
Rhode Island now has 43 COVID-19 related deaths, 160 people in the hospital, and 1,727 cumulative COVID-19 cases.
The age range for the eight new deaths ranges from people in their 20s to 90s, according to Health Director Dr. Nicole Alexander-Scott.
Raimondo noted on Thursday as testing in Rhode Island ramps up, the number of people in quarantine will go up.
"This is going to get harder, not easier," Raimondo said."We know that isolation and quarantining is not easy."
The governor also announced that Rhode Island Coronavirus testing sites will close early Thursday due to weather.
Gov. Raimondo said she doesn't want to release Rhode Island's predictive model because she doesn't yet have a high degree of confidence in them. She added however that the peak in cases is looking to be somewhere between late April and late May.
The governor also said that she is working with the state's department of health to create regulations to enforce mandated quarantines for those who need to. These regulations Raimondo said will include fines.
"We don't want to punish anyone and we don't want to levy a fine on anyone," Raimondo said.
As a reminder, the governor has said those who have traveled to Rhode Island from other states or those who have had contact with a person who tested positive for COVID-19 are ordered to quarantine at home.
There are currently just under 2000 Rhode Islanders in quarantine or isolation right now.
Raimondo reminded people who are sick that they should isolate themselves in their house, and stay away from any immediate family or people they live with.