RI Rep., says he is doubtful Brayton Point Power Plant will close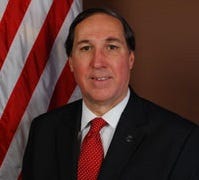 Dee DeQuattro
The announcement of the closure of the Brayton Point Power Plant in Somerset Mass., in 2017 came as a surprise to many but some are a bit more reluctant to believe the news.
Representative Raymond Gallison of Bristol says he will "believe it when he sees it."
"It's too lucrative of a plant for them to just say they are going to shut it down especially if you look at the time table," said Gallison. The power plant is currently locked into a set rate until 2016. According to Gallison, in 2017, the company would be able to request a rate hike.
As a result, Gallison speculated that the plant is just trying to scare officials and citizens in order to get a higher rate approved.
The plant employs about 240 workers and pays about $13 million a year in taxes to the town. The town currently operates on a $60 million budget.
Gallison said he is hopeful that the plant will shutter its doors because it is one of the heaviest polluters in Massachusetts. He said if the plant did close, Rhode Islanders on the East Bay can expect to breathe in cleaner air.
(C) WLNE-TV 2013