RI REP TO BCBS: Suck it Up Like the Rest of Us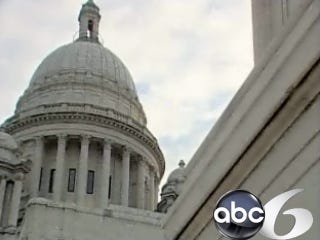 In recent weeks, Blue Cross of RI has been bombarded with barbs from state lawmakers after they requested another rate hike. An East Providence rep. took his own swing Thursday…
STATE HOUSE – Rep. Helio Melo today said the state must deny Blue Cross & Blue Shield of Rhode Island's second request for double-digit rate increases so far this year, at a time when the state's small businesses are rapidly going under and nearly 13 percent of Rhode Islanders are unemployed.
"Here we go again," said Representative Melo, a Democrat who represents District 64 in East Providence and serves on the House Finance Committee. "I understand that Blue Cross & Blue Shield came up $100,000,(000) short last year, but they should do what the rest of us and every company in Rhode Island had to do this year: swallow hard and look for savings before they try foisting a second significant increase off on the ratepayers in a matter of just a few months. They're trying to squeeze blood from a stone. The ratepayers are already stretched about as thin as they can be. The result of this proposal is that people and companies will drop Blue Cross and many Rhode Islanders are going to join the unfortunate ranks of the uninsured."
Blue Cross and Blue Shield cited the rising costs of health care, a 2009 deficit of $100,000, and the reduction of the rate hike it sought earlier this year, in its request for a 10- to 15-percent rate increase that would go into effect in May.
Representative Melo, who was also a vocal critic of BCBSRI's request in January for rate increases that ranged from 11.9 to 14.6 percent (which were granted in February, but reduced to 9.8 to 9.9 percent), said that if the not-for-profit insurer is struggling, it should have cut back on its newly built $125 million downtown headquarters or executive salaries before turning once again to the ratepayers.
"Blue Cross has to learn to live within its means the same way everyone else has to in this economy. If it doesn't, there are going to be a lot of Rhode Island businesses and individuals who are going to be forced to drop health insurance coverage through Blue Cross to stay within theirs," said Representative Melo.