RI salt delivery delayed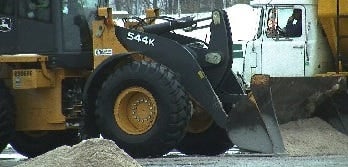 Nicole Gerber
@nicolegerber
We may have only gotten a dusting today but a big storm could hit us in just a couple days, and right now, we're out of the salt necessary for keeping roads clear.
"We have about 5,000 tons on hand, which is on the low end of
what we would typically need for a storm…" said RIDOT Deputy Director Phillip Kydd. "We typically like to keep in
storage about 25,000 tons"
On Shipyard St. in Providence there's usually a mountain of salt piled sky high
and it's used for the city, state, and other agencies. Even though it's gone, RIDOT says it's still got a plan.
"We're going to go on a low sodium diet, and we're going to
continue with a mixture of high sand and salt," said Kydd.
That means not all streets will be fully cleared, and snow
will be hard packed – making it more slippery and treacherous than usual.
Already Thursday saw accidents thanks to mother nature, and with temperatures dropping roads could be slick making it difficult for
people who can't avoid the roads.
"I don't have remote access so I don't have that luxury, if I'm not in the office I'm not working so I'm driving down no matter what
happens, it sucks," said Mike Lavelle, who commutes to work in Providence every day from Boston.
"I don't have that option, I have to go, I have no choice," said Dennis Cournoyer, who works for USPS. "I think it's crazy, it's sad that we run out of salt when we need it the most"
The state's salt supplier – International Salt – says the
shipment is expected sometime during the first week of march.
Until then… it's just a waiting game.
(c) WLNE-TV 2014