RI Senator Indicted in $1.5M Bank Fraud Scheme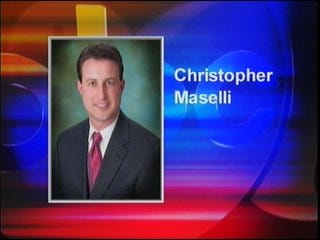 PROVIDENCE, R.I. (AP) – A Rhode Island state senator has been indicted on bank fraud charges.
Sen. Christopher Maselli, a Johnston Democrat and self-employed real estate lawyer, is accused of falsifying bank and federal tax documents and obtaining more than $1.5 million in mortgages.
The indictment, which was issued by a federal grand jury Thursday afternoon, is not connected to his Senate position.
Maselli was first elected in November 2006. His lawyer, William Kettlewell, said in a statement that several of the loans have been paid in full and some are in the process of being paid off. He says there was no fraud.
The indictment accuses Maselli of lying about his income and submitting phony bank statements to obtain mortgages on residential properties in Johnston and North Providence.

(Copyright 2010 by The Associated Press. All Rights Reserved.)
*****
R.I. REAL ESTATE ATTORNEY INDICTED IN SCHEMES NETTING $1.5 MILLION IN MORTGAGES
Providence, R.I. – A federal grand jury Thursday indicted a North Providence, R.I., real estate attorney on charges he falsified bank and federal tax documents, and lied about his income and assets, in obtaining more than 1.5 million dollars in mortgages. U.S. Attorney Peter F. Neronha announced the seven count indictment on bank fraud charges against Christopher B. Maselli.
Maselli, 38, whose law practice is located in North Providence, resides in Johnston, R.I.
According to the indictment, between December 2007 and March 2009, Maselli, a self-employed attorney, inflated his annual income dating back to 2005; lied about personal assets; and submitted phony and altered bank statements and IRS tax returns when applying for mortgages, a home improvement loan and an auto loan. Maselli was approved for five mortgages on residential properties in Johnston and North Providence, and an auto loan, totaling approximately $1,525,027.50.
U.S. Attorney Peter F. Neronha commented, "It goes without saying that ensuring the integrity of the mortgage loan application process is of critical importance. The allegations in this indictment are particularly disturbing in that an attorney, who is trusted to provide sound legal advice and to conduct real estate transactions in a fair and honest manner, used his expertise to fraudulently obtain his own mortgages."
Maselli's initial appearance in U.S. District Court has not yet been scheduled.
The matter was investigated by the Federal Bureau of Investigation and the U.S. Department of Housing and Urban Development, Office of the Inspector General. The case is being prosecuted by Assistant U.S. Attorney Dulce Donovan.
An indictment is merely an allegation and is not evidence of guilt. A defendant is entitled to a fair trial in which it will be the government's burden to prove guilt beyond a reasonable doubt