RI Mobster Sentenced to 7 Years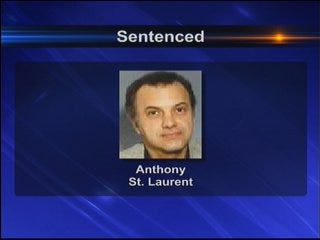 PROVIDENCE, R.I. (AP) – A Rhode Island mobster has been sentenced to seven years in prison for a murder-for-hire plot that was never carried out.
U.S. District Court Judge William Smith sentenced Anthony "The Saint" St. Laurent Sr. on Wednesday in Providence.
The 70-year-old St. Laurent appeared in court in a wheel chair and with an oxygen tank. He pleaded guilty on March 24 to the use of interstate commerce facilities in the commission of a
murder-for-hire. St. Laurent faced up to 10 years in prison, a $250,000 fine and three years of supervised release.
Prosecutors say St. Laurent plotted to have fellow mob member Robert "Bobby" DeLuca killed. St. Laurent has acknowledged in court papers to being a member of the Patriarca crime family.
(Copyright 2011 by The Associated Press. All Rights Reserved.)