RI State Police: Drag racing 'prevalent problem'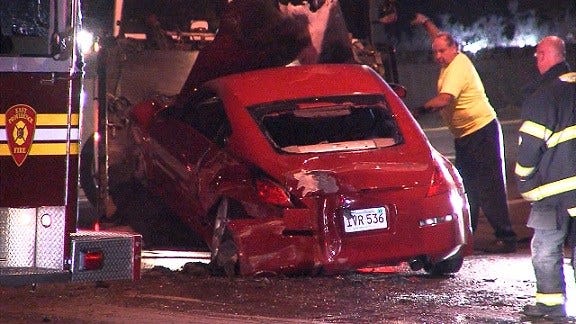 By: Rebecca Turco
Email: rturco@abc6.com
PROVIDENCE – A fiery car accident on 195 East in East Providence is shedding light on the ongoing issue of drag racing.
Rhode Island State Police say two cars were drag racing around 8:30 p.m. when one lost control, smashing into a light pole and catching fire near Exit 5.
It took crews about 10 minutes to put out the flames and 10 more to let the car cool off before one lane was opened to traffic.
Captain Dennis Fleming says drag racing has become more common in Rhode Island in recent years. "We're actively out there trying to combat that and stop that," he explained.
For every car accident from the dangerous speedy game, there are countless other racers that get away unscathed.
"I see it all the time," John Colson of Johnston told ABC6 News. "It's frightening just to see when they can actually block off a road to drag race. It's pretty scary."
"There are cowboys out there and I don't know why they're in such a rush," said Jackie Ericson of East Greenwich.
The tricky part for police is catching up with the racers in time. "Usually it happens at night and by the time the troopers get there, [the drag racers] aren't there," Fleming explained. "The vehicles have already left the area."
Both the male driver and a passenger of the crashed car from Tuesday's accident refused treatment at the scene.
The driver, 20-year-old Stephen Conti of Rehoboth, was then taken into custody, charged with reckless driving. He was released on $1,000 personal recognizance. He is due back in court next month.
Police are still searching for the second vehicle involved in the accident.
© WLNE-TV 2015