RI State Police prepare for Boston Marathon run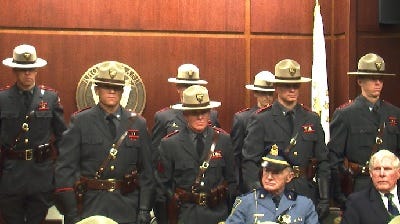 Nicole Gerber
@nicolegerber
SCITUATE – The images from last year's Boston Marathon bombings aren't easily forgotten.
They left a lasting impression… motivating 11 Rhode Island State Troopers to take to the pavement for
this year's race… nearly double the number of runners they had last year.
"The range of emotions still runs strong to this day, after
the incident occurred. So I know personally, I'm going to be running with all those
feelings again, and utilizing those hopefully to propel me to the finis," said
Trooper John Gadrow, who will be running in this year's race.
Their efforts are more than just physical. The troopers have raised $12,000 for the Massachusetts–based Cops for Kids with Cancer foundation. That's more than the 70 participating Mass state troopers
have raised.
"I'm confident we're going to catch up… But we're not
caught up right now! So I want to use this and the pictures to put on our media
to say uh, guys, 11 guys just beat you in a game of 70!" said Lt. William Coulter of the Massachusetts State Police.
RI State police will be running with specialized emergency gear, such as tunicates, so that if an emergency does happen, they'll be ready to
take care of it.
They'll be joining more than 100 other law enforcement and
military professionals, who will provide an additional layer of security from
within the race itself.
That training will begin in the next few weeks.
Until then, the runners will be raking up the miles… preparing to re–claim the Boston Marathon for what they believe it
really is.
"They win if we run and hide, right? They win. And we're not
going to let them win, so… This is America,
this is Boston,
this is new England, we run with pride, you know, and we live with pride, and
they're not going to take that away from us," said Gadrow.
(c) WLNE-TV 2014