RI State Police seize numerous firearms, military gear, drugs, during traffic stop in West Greenwich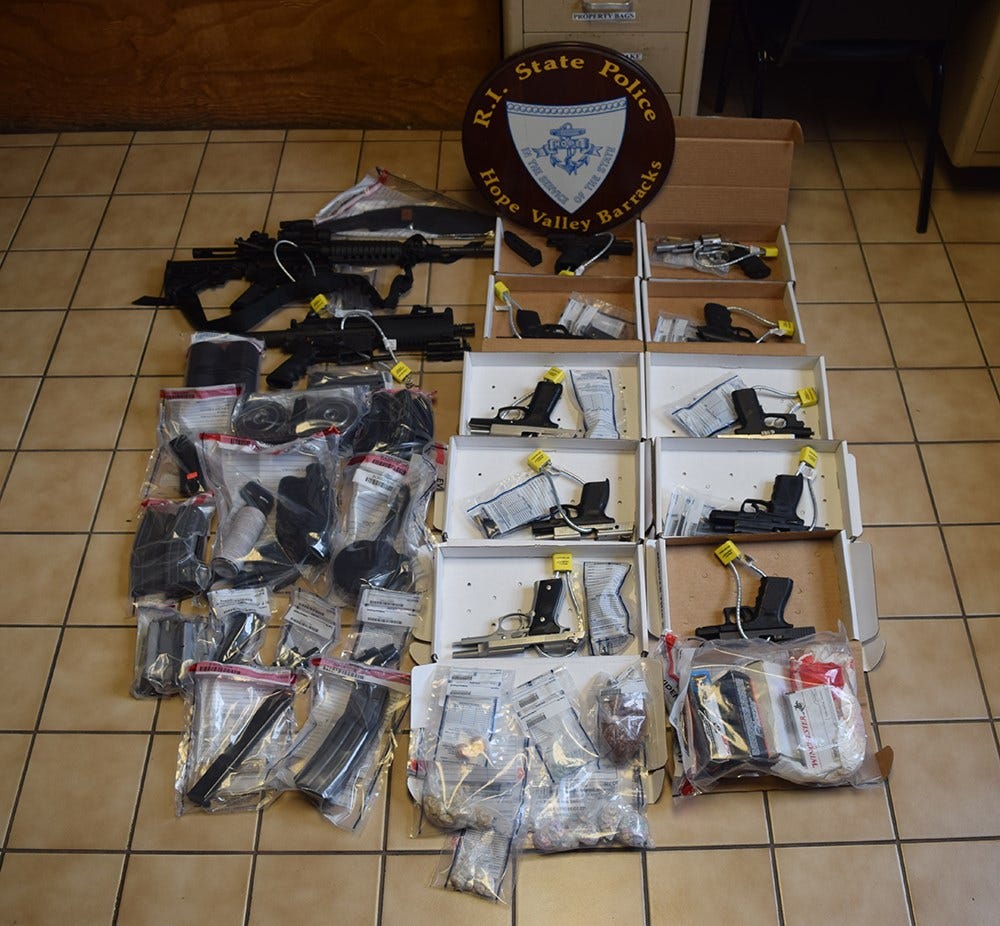 By: News Staff
Email: news@abc6.com
Twitter: @ABC6
SCITUATE, R.I. (WLNE) – Rhode Island State Police seized a number of firearms and illegal drugs during a traffic stop on Interstate 95 in West Greenwich last week.
The driver, Anthony Mondrez Thompson, 39, of North Carolina, was arrested on weapons and drug charges.
He was ordered held without bail after his arraignment Monday at Rhode Island Hospital.
Thompson was being treated at the hospital for injuries he sustained while trying to escape from troopers.
While being questioned during the traffic stop, Thompson allegedly shoved one of the troopers into the roadway while he took off on foot.
Thompson ran across the highway towards oncoming traffic on Interstate 95.
Troopers used a Taser on Thompson, causing him to finally stop and fall to the ground.
Thompson was transported to Kent County Hospital and was later transferred to Rhode Island Hospital, where he remains under guard according to police.
Among the items seized were high-powered pistols and rifles, a sawed-off shotgun, a large amount of illegal drugs, ammunition, smoke grenades, assorted camouflage gear, night vision goggles, and a Taser.
Upon a background check, police discovered Thompson had a lengthy criminal record, including multiple convictions for firearm and drug trafficking crimes.
Colonel Ann C. Assumpico, Superintendent of Rhode Island State Police and Director of the Department of Public Safety, said this is one of the largest seizures of weapons during a traffic stop that she can remember.
She commended the troopers involved and said they prevented the dangerous weapons from reaching the Southern New England streets.
"These lethal weapons posed a tremendous threat to everyone living, working or vacationing in Rhode Island," Colonel Assumpico said. "We are extremely grateful to have these dangerous weapons off the streets, and we will continue to aggressively investigate and prosecute these and other weapons cases."
Thompson was arraigned on the following charges:
Carrying a Pistol Without a License
Possession of Stolen Firearm (4 counts)
Possession of Arms by a Convict in a Crime of Violence
Resisting Arrest
Simple Assault
Possession of Schedule I-V Controlled Substance, with Intent to Deliver
Alteration of Marks of Identification on a Firearm
Loaded Weapons in a Vehicle
Possession of a Sawed-Off Shotgun
Possession of Explosive & Noxious Substances
Carrying Dangerous Weapons / While Committing a Crime of Violence
Carrying Stolen Firearm when Committing a Crime
© WLNE-TV / ABC6 2017