Rhode Island surpasses 2,000 COVID-19 cumulative cases, 6 additional COVID-19 deaths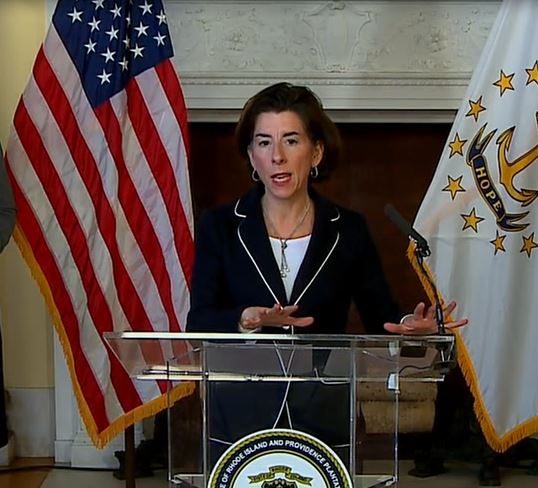 PROVIDENCE, RI (WLNE) – Governor Gina Raimondo started her daily briefing Friday announcing six new COVID-19 associated deaths and 288 new COVID-19 cases in Rhode Island.
This brings the state's total to 49 deaths due to COVID-19, 169 people in the hospital with COVID-19 symptoms, and 2,015 cumulative cases.
Five out of the six people new Rhode Island COVID-19 associated deaths lived in nursing homes. The age range for these new deaths ranged from one person in their 60s to one in their 100s, according to the Rhode Island Department of Health Director (RIDOH), Dr. Nicole Alexander Scott
Raimondo noted that there will be a $600 increase for those who qualify for unemployment. This increase comes from the federal government and will be added to all unemployment checks next week, she added.
While on the topic of who qualifies for unemployment benefits she reminded the public that if they quit their job they won't qualify.
"If you're able to go to work, we need you to go to work," Raimondo said. "If your business is still open that means it's an essential business and we need you to go to work."
Raimondo also announced that Rhode Island Public Transit Authority buses will be limiting capacity to no more than 15 passengers to allow for more social distancing. RIPTA is also asking all passengers to use cloth face coverings when boarding the bus.
Additionally, the governor announced a partnership between RIPTA and Meals On Wheels, the program that delivers food to house-bound elderly residents. Raimondo said the program has been overwhelmed with requests, and with the aid of RIPTA drivers and buses, it can now increase capacity.
The governor also addressed domestic violence, returning to a statement she made yesterday concerning a spike in 911 calls.
"At the same time we're seeing increases in 911 calls, we're actually seeing decreases to domestic violence hotlines,  shelter intake, et cetera," Raimondo said, "which tells me that people are afraid to reach out."
Raimondo ensured residents that resources were still available, such as the Rhode Island Coalition Against Domestic Violence and its member agencies and associated shelters were still open.
The domestic violence hotline can be reached 24-hours a day at 1-800-494-8100, with services in both English and Spanish.
While the courts are closed for non-essential business, they remain open to issue no-contact orders, Raimondo said.
The governor urged residents to reach out to friends and co-workers who may be struggling with difficult domestic situations.
Dr. Nicole Alexander-Scott, head of the Rhode Island Department of Health,  brought up that she is noticing a problem with personal protective equipment not being properly disposed of. She urged Rhode Islanders to properly dispose of their used protective equipment, such as masks and gloves.
Along with proper disposing of PPE, Alexander-Scott urged residents to refrain from flushing disposable wipes, regardless of what the packaging might say.
The Rhode Island Department of Environmental Management has issued statements warning residents that the wipes can wreak havoc on sewer pipes, causing damage and clogs that may lead to a back-up of wastewater into homes and businesses.