RI Treasurer Hopeful King Talks Personal Finances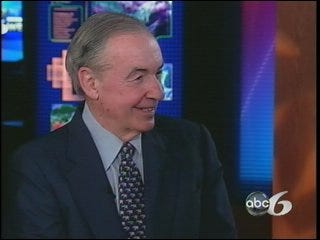 On this week's edition of 'ABC6 News On The Record', Republican candidate for State Treasurer Kerry King was asked whether he was going to release his tax returns to the public during this election season.
ABC6 Chief Political Analyst Vincent 'Buddy' Cianci asked King about releasing his finances, something candidates often do during runs for office.
Here's the exchange between King and Cianci.
You can see the entire interview with King this Sunday, on 'ABC6 News On The Record', hosted by ABC6 Anchor John DeLuca and Cianci, at 7:30AM on ABC6.