RI unemployment rate is the highest in the country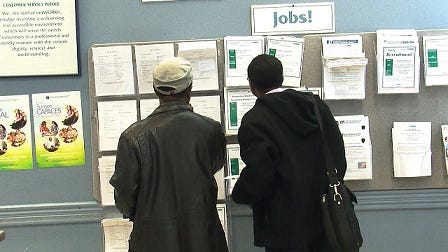 By: Samantha Lavien
Twitter: @samanthalavien
Rhode Island's unemployment rate rose to 9.1% in December leaving the state with the highest unemployment rate in the country.
The news is quite discouraging for those looking for jobs in the state.
"I barely got out of bed today because I'm just very depressed and there's no incentive," said Perez. "I've been looking for almost a year. It is very frustrating."
University of Rhode Island Economics Professor Leonard Lardaro says the latest job numbers are not very surprising.
"We've been number one or in the top six unemployment rates every month since 2008," said Lardaro. "The biggest problem for Rhode Island continues to be that our labor force does not have adequate skills and that means that companies are not going to necessarily come here or if they are here they are not going to want to expand."
But despite the discouraging numbers, many say they are not giving up hope.
"As long as you're motivated and you get out there every day and you're sending out your resume to different places there are opportunities," said Cassandra Diaz.
Some in the state are calling for these numbers to serve as a wake up call…
"Our big idea which is really the only one on the table right now is to reduce the sales tax dramatically. In fact our midrange idea to drop it to 3 percent would drop our unemployment rate to 6.6%," said Mike Stenhouse the CEO of the Rhode Island Center for Freedom and Prosperity.
The national unemployment rate for the month of December was 6.7%.
(C) WLNE-TV 2014