RI vape stores push back against governor's ban on flavored e-cigs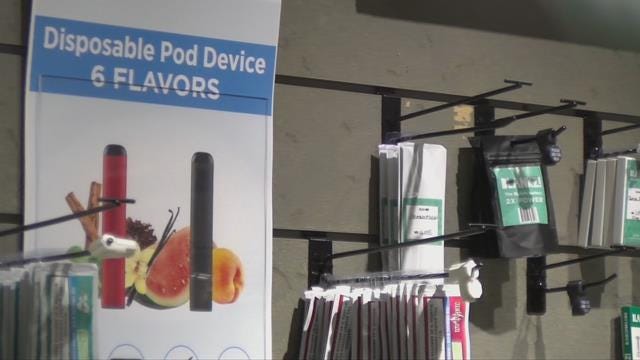 By: Ellie Romano
Email: ERomano@ABC6.com
Twitter: @ERomanoABC6
RHODE ISLAND (WLNE) – Rhode Island is now the fourth state in the country to crack down on vaping.
The move comes one day after Massachusetts Governor Charlie Baker signed an order for an all-out ban on vaping products.
Both bans come after
530 cases of lung illnesses
were reported in 38 states and 1 U.S. territory. Seven deaths have been confirmed in 6 states, according to the Centers for Disease Control and Prevention.
Governor Raimondo is calling it a public health crises. The Department of Health is now creating regulations for her executive order. Once the regulations are in place, the ban will go into effect.
Until then, it's a race against the clock for vape stores to sell all of their flavored e-cigarette products.
"Some are discussing five days to sell out a product. That's very challenging to a company," said Dino Baccari, the owner of White Horse Vapor in North Providence.
He said flavored e-cigs are the most popular product in his store. But now, he's canceling incoming shipments to prepare for Rhode Island's ban.
Baccari and other vape store owners are facing a double whammy with Massachusetts' ban.
"We have orders to Massachusetts that are no longer going to be taking place," said Baccari. "You're talking about $150,000 yesterday alone that we lost."
Governor Raimondo said the ban is necessary to protect the state's youth.
"I hear from parents and teachers and coaches that the use of flavored e-cigarettes among teenagers and middle school students is alarming and rising and scary," said Governor Raimondo.
Baccari said he's baffled by the ban because he claims legal flavored e-cigarettes have nothing to do with the illnesses around the country.
According to the CDC, most of the patients reported a history of using e-cigarette products containing THC.
THC is not sold in flavored e-cigs at White Horse.
By law, vape stores in Rhode Island can not sell to anyone under 18.
Baccari believes the ban will cause more minors to turn to unregulated products on the black market.
"If you think you've seen illnesses now, wait until you see what they're going to be like in the near future," said Baccari.
Baccari said he wants the governor to sit down with members of the vaping industry to discuss vaping products.
Rhode Island's ban is expected to take effect early next week.
©WLNE-TV/ABC6 2019