RIC Wins Quarterfinal Game Over Southern Maine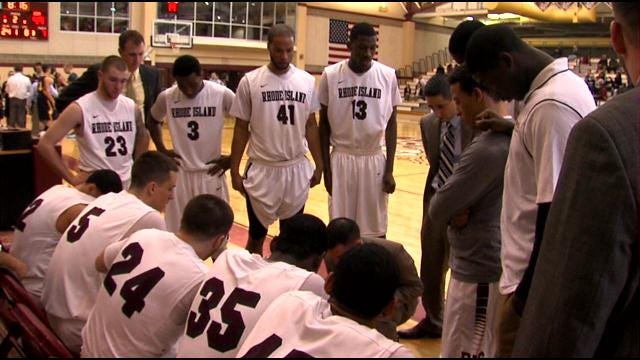 RIC news release…
RIC ADVANCES WITH, 74-66, WIN OVER SOUTHERN MAINE IN LEC TOURNAMENT ACTION
Anchormen Set to Face UMass Dartmouth in Semifinals
Providence, R.I.-Junior forward Chris Burton (New Rochelle, NY) posted 14 points, four steals, three rebounds, two blocks and two assists, while junior forward Victor Smith (Providence, RI) tallied 12 points, eight rebounds, and three blocks, to lead Rhode Island College to a 74-66 victory over the University of Southern Maine in the first round of the 2014 Little East Conference Men's Basketball Tournament played at The Murray Center on Tuesday night.
Rhode Island College (18-8) travels to Willimantic, Conn. this weekend to face off against third-seeded UMass Dartmouth on Friday night (7:30 p.m.) in the semifinals hosted by Eastern Connecticut. It marks the 10th straight year that the Anchormen have reached the semifinals of the conference tournament.
Junior guard Eric Alleyne (Watertown, MA) finished with 13 points, four assists, and four rebounds for RIC, while senior guard Michael Palumbo (Providence, RI) contributed 11 points. Senior guard Tom DeCiantis (North Kingstown, RI) added eight points, six rebounds and four assists, while freshman guard Austin Cilley (Westerly, RI) chipped in with eight points as well.
"We got the result and at this time of year that is what is most important," said Head Coach Bob Walsh. "But we are going to have to defend more consistently if we want to keep playing. I'm proud of the veterans guys like Mike, Chris and Tom who stepped up to help us close this game out."
Rhode Island College drained eight three-pointers and shot 40 percent (8-for-20) from beyond the arc en route to the victory. The Anchormen also went 22-for-23 (96 percent) from the free throw line, while the Huskies shot just 25 percent (3-for-12) from downtown and 50 percent (15-for-30) from the charity stripe.
Meanwhile, RIC shot 41 percent from the floor (22-for-54) in the win, while USM shot at a 44 percent (24-for-55) clip in a game that featured eight ties and seven lead changes.
Junior center Tyler Penney (Barnstead, NH) led Southern Maine (7-19) with a game-high 23 points and added four rebounds and two blocks along the way. Meanwhile, sophomore guard Cole Libby (Buxton, ME) finished with 14 points, six rebounds, five assists and two steals for the Huskies. Senior forward Conor Sullivan (Scarborough, ME) netted nine points to go along with eight rebounds, two steals and two assists, while freshman guard Zach Leal (York, ME) contributed eight points, five rebounds and three assists. Junior forward James Odneal (Pontiac, MI) added five points, five rebounds, three steals and two assists.
After the two teams exchanged baskets throughout the opening minutes of the first half, Rhode Island College rattled off a 12-2 scoring run to take a 10-point, 24-14, lead with 9:47 on the clock. However, the Huskies rallied to close out the first half on a 17-11 run en route to the four-point, 35-31, halftime deficit.
The Anchormen led by as many as eight points early in the second half before USM again caught fire and rallied to tie the game, 43-43, with 14:13 remaining. After a three-pointer from Leal put the visitors on top, 49-45, with 11:11 left to play, RIC responded with back-to-back treys, courtesy of Alleyne and Palumbo, to take a 51-49 lead at the 9:17 mark. Southern Maine failed to get any closer, as the hosts jumped ahead of the visitors by as many as 10 points and went on to outscore the Huskies, 23-17, through the rest of the game.
The Anchormen and Huskies each pulled down 36 rebounds on Tuesday and both dished 16 assists as a team. USM committed 14 turnovers on the night while RIC coughed it up 15 times.