Update: Richmond Police officer arrested, registering porn sites in Chief's name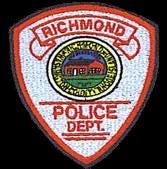 Dee DeQuattro
News Staff: UPDATE – Officer Steven Gravier a seven year patrolman has been suspended without pay and benefits.
A Richmond Police Officer has been arrested for using the Police Chief's name and registering internet domain names that redirected users to pornographic websites.
41-year-old Steven Gravier was arrested and charged with knowingly using misleading domain names on the Internet. The arrest was a result of a State Police investigation requested by Richmond Police Chief Elwood M. Johnson Jr.
The complaint says that Gravier registered two domain names www.elwoodjohnson.com and www.elwoodjohnsonjr.com and both addresses immediately rerouted users to a homosexual male hardcore porn site. The complaint said the domains had been hosting pornography since September 14, 2012.
As of January 4, 2013 the websites were rerouted to a different website, www.ma-excavation.com.
Gravier was arraigned before the United States District Court in Providence and released on $10,000 unsecured bond.
(C) WLNE-TV 2013