RIDOT completes bridge inspections, 28 in critical condition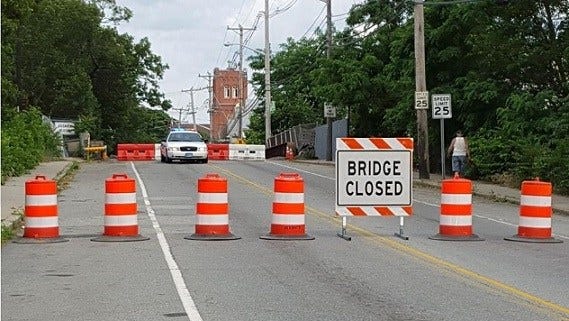 By News Staff
Reporting by Rebecca Turco
rturco@abc6.com
The Rhode Island Department of Transportation has finished inspecting Rhode Island's worst bridges, saying that dozens are in critical condition.
Bridge improvements are expected to take some time, part of a long-term plan. 28 bridges were recommended for immediate action, including the Pawtucket Avenue Bridge in East Providence, and the Mineral Spring Avenue Bridge in Pawtucket.
Inspections have also led to minor repairs at more than two dozen structures. The DOT began the inspections back in May after four separate bridge issues had been reported within the first eight weeks of 2015.
"What we're doing is out of an abundance of caution here. Taking measures to make sure that these critical findings do not turn into safety problems," says Peter Alviti Jr. of the RIDOT.
One out of every five bridges in the state is structurally deficient.
The full list of the 28 bridges that are in "critical condition" are:
Henderson Bridge – East Providence/Providence
Mussey Brook Bridge – Lincoln
Leigh Road Southbound – Cumberland
Blanchard Saw Mill Bridge – Scituate
Wolf Spider Bridge – Smithfield
Hartford Pike Bridge – Scituate
Victory Highway Bridge – West Greenwich
Kendrick Avenue Pedestrian Bridge – Woonsocket
Red Brook Bridge – West Warwick
Mineral Spring Avenue Bridge – Pawtucket
Leigh Road Northbound – Cumberland
Cole Street Railroad Bridge – Pawtucket
Route 3 (Main Street) Bridge – Hopkinton
Rockland Bridge – Scituate
McCormick Quarry Bridge – East Providence
Mendon Road Bridge – Cumberland
Clyde Bridge – West Warwick
Hunts Mills Bridge – East Providence
Scott Road Northbound Bridge – Cumberland
Scott Road Southbound Bridge – Cumberland
Chapman Pond Bridge – Westerly
Farnum Pike Bridge – North Smithfield
Pawtucket Avenue Bridge – East Providence
Oaklawn Avenue Bridge – Cranston
Manville Bridge – Lincoln/Cumberland
Oaklawn Avenue Railroad Bridge – Cranston
Park Avenue Railroad Bridge – Cranston
Hope Bridge – Lincoln
In just the past few weeks, in addition to the inspection, crews also found two bridges needing emergency attention in Richmond and North Kingstown.
Officials hope legislators approve their long-term funding plan at the star of the session.
"As we focus on rebuilding our infrastructure, our top priority is keeping Rhode Islanders safe," said Governor Gina M. Raimondo in a statement.
© WLNE-TV 2015