Over-sized big rig on the move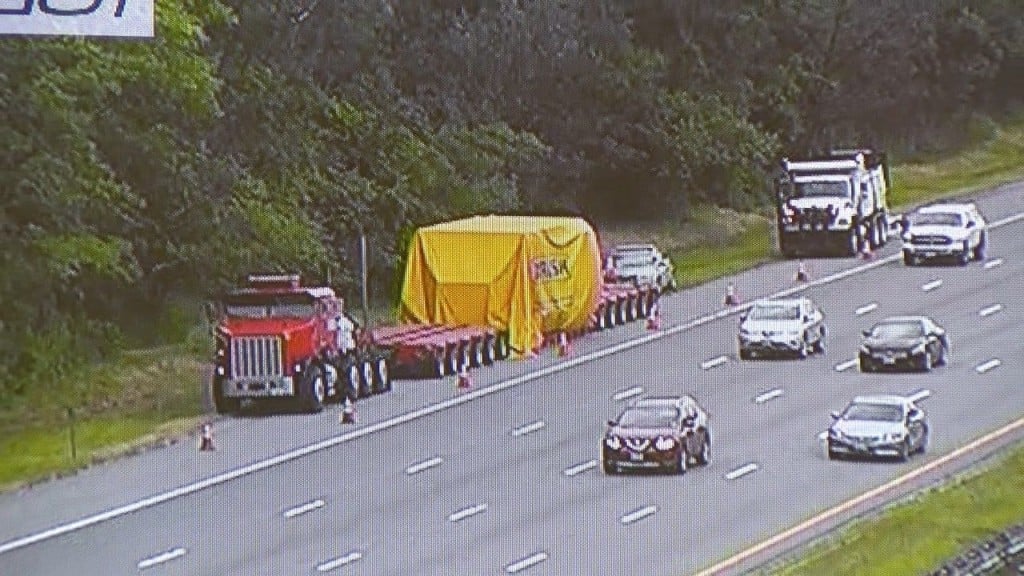 By: Samantha Fenlon
Email: Sfenlon@abc6.com
Twitter: @SFenlonABC6
WARWICK, R.I. (WLNE) — A 560,000 lb truck stopped in Rhode Island nearly two weeks ago for not having the proper permits is back in route to Massachusetts.
"I'm thinking I've never seen a truck that big before in my life," said Arthur Tattrie.
A large group gathered to watch the big-rig as it slowly pulled out of the Park and Ride parking lot on Route 117 in Warwick around 8:15 Monday night.
"It's very interesting. I am overwhelmed by its size and the configuration. I've seen some big trailers in my life but, not like this," said Alex Kent.
The Bay Crane Northeast truck with its load, a massive generator, weighs seven times over the weight limit allowed on Rhode Island roads and bridges.
DOT Director Peter Alviti speaking of the damage this truck could have caused during a press conference last week.
"It could have caused either temporary or permanent closure to the route 95 corridor," said DOT Director Peter Alviti.
The truck along with a police escort will follow a long route out of the state mostly back roads and less traveled routes.
As part of the agreement for a permit to finally get back on the road Bay Crane issued a $25 million insurance policy, will pay for the state police escort and will reimburse DOT $60,000 to cover the "unusual circumstances brought about by the unique nature of this incident."
As the truck travels north reinforcements will be put up along every bridge it goes over.
For the people who came out to see the big rig leave they tell ABC 6 News it's an unforgettable sight.
"I just marvel at the engineering to carry that monstrous weight," said George Taber.
The route back to Massachusetts is expected to take about 10 hours. The final destination of the big rig is Medway.
©WLNE-TV / ABC6 2017