RIDOT says stalling tolls is not in RI's "best interests"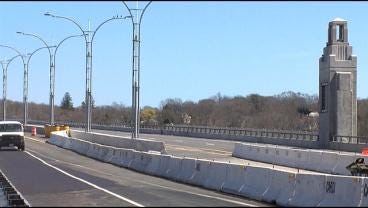 Dee DeQuattro
The Rhode Island Department of Transportation says a budget proposal by the Rhode Island House of Representatives to put off tolling on the Sakonnet River Bridge until next April is "not in the best interests of Rhode Island."
The proposal temporary halts the implementation of tolls on the new Sakonnet River Bridge to allow lawmakers the chance to explore other options to fund bridge repairs.
The RIDOT and the Rhode Island Bridge and Turnpike Authority have been firm on their position to implement tolls on the new bridge as a way to fund bridge maintenance in RI. Last session the General Assembly allowed the Bridge and Turnpike Authority to take control of the Sakonnet River Bridge in order to implement tolls.
"There is a critical need for identifying a solution not only to funding the maintenance of our major bridges but also to the larger problem of financing transportation infrastructure across our state. The health of this infrastructure is central to the health of our economy and the quality of life of Rhode Islanders," said the DOT in a statement.
The DOT said the proposal does not allow the state to "properly invest in some of our state's most critical assets."
"Rather, it would, among other things, potentially stifle the state's ability to ever use tolling of the Sakonnet Bridge as a funding option for maintaining this vital structure," the DOT concluded.
Tolling was set to begin on the Sakonnet River Bridge in July.