RIDOT to Announce Start of Commuter Rail Service at Wickford Junction Train Station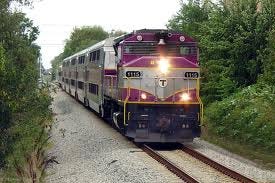 The Rhode Island Department of Transportation (RIDOT) will be announcing the start of commuter rail service at the new Wickford Junction Train Station and Garage, 1011 Ten Rod Road in North Kingstown, RI, on Thursday, April 5, 2012 at 10 a.m. at the new facility. The Monday through Friday service will offer commuters 20 trips per day to Warwick and Providence, RI and Boston, MA.
Attendees will also have the opportunity to tour the station, platform and parking garage. The station will have a coffee shop, an indoor waiting area, and heated and air conditioned bathrooms. The 848-foot platform has seating and covered areas to protect travelers from inclement weather. The four-story parking garage will accommodate 1,100 cars and have 10 charging stations for electric and hybrid vehicles. Bicycle racks will also be available.
The new Wickford Junction Train Station and Garage will be linked to Rhode Island Public Transit Authority (RIPTA) bus service. The entire facility is in compliance with the Americans with Disabilities Act (ADA).
Built using a Public-Private Partnership between RIDOT and the developers of Wickford Junction, the Wickford Junction Train Station and Garage is a critical component of South County Commuter Rail. This facility extends commuter rail service south to Wickford on the Massachusetts Bay Transportation Authority (MBTA) Providence-Stoughton line.
Travel time from Wickford to Warwick will be 22 minutes and just 77 minutes to Boston's South Station. This train service, which will begin later this month, is expected to help alleviate peak hour congestion along the Route 4 and I-95 corridor.