RIEMA urging people to clean roofs before storm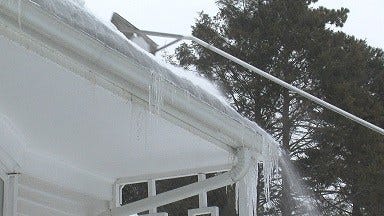 By Dana Griffin
@DanaGriffinABC6
PROVIDENCE, RI- If you've got cracks in the walls, jammed doors, or leaks, these are signs you have potential for a roof collapse.
The Rhode Island EMA is urging people to clear their roofs now, or it could cost you later.
According to the Rhode Island Emergency Management Agency over 50 inches of snow have accumulated in Rhode Island since January- much of it hasn't melted.
RIEMA external affairs representative, Alex Ambrosius said, "If you notice you have about two feet of snow, that's why we really want people to consider taking care of that today before the rain comes."
Chris Kumar has lived at his Lincoln home for five years and has never had a roof leak before but this year he's not so sure he can keep that streak up.
"Yeah, I think we might have a little issue if it rains tomorrow. I think I might have a problem but I'm trying to do the best I can to prevent it."
He's using a snow rake– recommended by RIEMA; cautiously scraping to avoid ripping off shingles.
Roof rakes are available at most hardware stores and could end up saving you hundreds in roof damage. RIEMA recommends you not stand on tall ladders unless you have a spotter or know what you're doing.
"Try to attack it from the ground. Stand on the ground with a roof rake and try to get that snow off or hire professional help," said Ambrosius.
RIEMA encourages neighbors to help clear fire hydrants and more importantly gutters– which can help prevent flooding.
2015 ABC6/WLNE-TV. All Rights Reserved.