Ringling Brothers final show held in Providence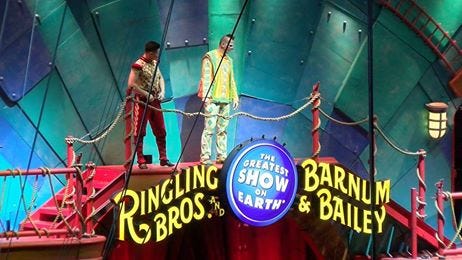 Circus performers taking their final bow as the Ringling Brothers Barnum and Bailey circus holds the last of 7 shows in Providence tonight. The Dunkin Donuts Center was packed with children and adults all anxious to see the greatest show on earth as the curtain closes for the last time here.
"It feels like we're at a historic event right now," says North Kingstown resident Anthony Miccolis.
Unlike past performances, the show started with longtime producer of the show Kenneth Feld and his family thanking those who have made it the Greatest Show on Earth.
"It's extraordinary to see this town without a zip code working together, traveling around America and giving an example of team work, camaraderie and family," Feld said to the crowd.
With animals, singers, dancers and clowns, for some it's an occasion too big to miss.
"It's the end of an era. This is something I grew up doing and something I can spend time doing with my daughter. I figured it's the last one we need to come check it out," says Providence resident Dustin Pari.
A crowd favorite, tight rope walkers.
"I was thinking that they were going to fall," say 8 year old Josh.
Part of the reason the show will not go on, high production costs and declining attendance made worse when the circus decided to phase elephants out of the show. A win for animal activists who have long protested the Ringling Brothers. Several lined the sidewalk outside of the Dunk on Saturday, telling circus goers the animals are abused during training.
"We're hoping that not only do they not get into the circus business again, but they turn over all their animals to sanctuaries," says protester Dennis Tabella.
There are 2 Ringling Brothers tours happening right now, tonight's the last show for one of them. The final show ever will be in Long Island on May 21 and that will be live streamed on Facebook.