RIPTA CEO denies fraud claims with their RIDE program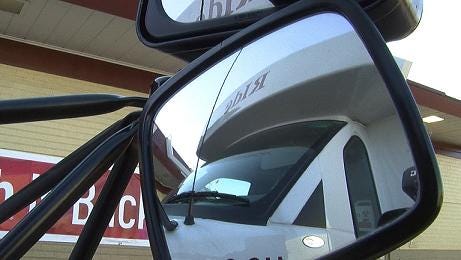 RIPTA CEO Charles Odimgbe is denying any fraud with their RIDE program. Earlier this week the agency's assistant general manager, Mark Therrien, suggested that an increase in ridership was due to people abusing the program. People were getting free passes, meant for those with disabilities and elderly passengers, when they shouldn't have been getting them. The abuse comes at a high cost, Therrien says hundreds of thousands of dollars to the agency.
Now, the CEO is saying this has all been blown way out of proportion. Charles Odimgbe says Therrien's words were taken out of context. He says ridership has seen a spike of 300,000 to 400,000 rides in the past years. While RIPTA is working to tighten its policies to prevent fraud, Odimgbe says fraud is not the reason for the increase in ridership.
Odimgbe says, "anytime you set up a system there's going to be abuses."
He says his staff is concerned the increase in ridership could be some issues surrounding their no-fare passes for the RIDE program, but he doesn't consider those issues to be fraud.
"You have to note there's been a spike in all areas, but whether this is due to the de minimus abuse or due to the economic climate those are left for us to figure out.," says Odimbge.
Odimgbe says some issues were brought up at the hearing about people using faulty doctors notes to get a pass, but says he doesn't believe that is the reason for the increase in ridership. It could just be a sign of the times he says.
"I'm telling you right now any abuses, if any at all, is too de minimus for me to worry about," he said.
RIPTA is proposing a change to their policy that would no longer accept a doctor's note to get a no-fare pass. Which concerns riders like Annette Joseph, who used a doctor's note to get her pass to ride.
"I don't know what would I show them my medicare," says Joseph.
Annette Joseph has been a rider for years. She has sciatic pain in her lower back that prevents her from stepping up the regular RIPTA buses. She's concerned the tightening policies could affect her only means of transportation to and from the doctors.
She says, "there's really no other way to get to these places so this is bad in my situation.
Obimgbe says riders have nothing to worry about, if anything the changes are to better the program.
"Right now I don't think any rider should be concerned about losing their passes or losing service for any reason whatsoever," he said.
Obimgbe says riders will have to show confirmation of their disabilities from their agency provider, such as Medicare or Medicaid to get the no-fare pass. That change is not expected for another couple of months.