RIPTA releases crash video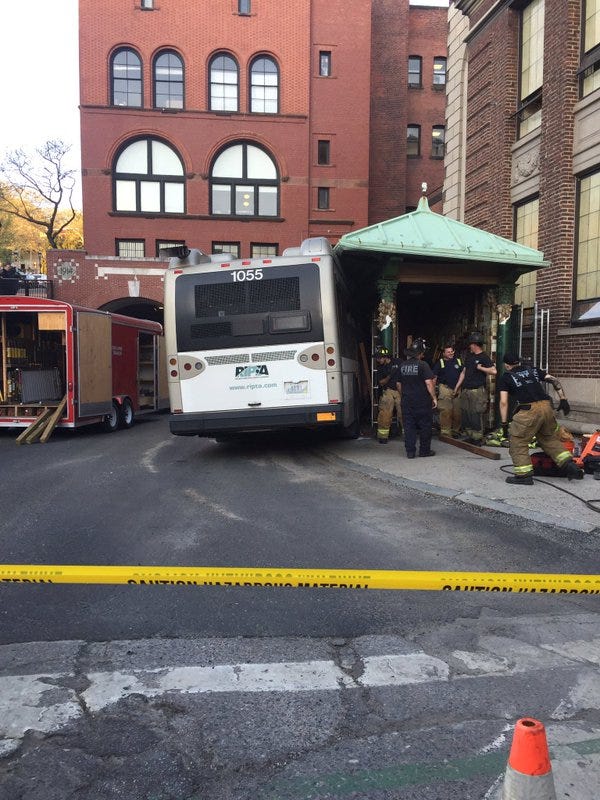 By: Melissa Randall
Mrandall@abc6.com
@MRandallABC6
A RIPTA driver has been placed on administrative leave following a bus crash in Providence that injured 9 people including himself and a child.
The agency released a 35 second clip of the incident from the drivers pony of view. It shows the moment of impact and then goes black.
"The preliminary tests have come back and there was no operational issue with the bus, so there wasn't a malfunction thus far unless we find something further. It looks like the bus was in proper working order," said Scott Avedesian, RIPTA's board chairman.
The agencies findings are different than a statement bus driver Andre Blemur gave to police at the scene. According to the initial crash report, obtained by ABC6 News, Blemur said he stepped on the brakes, but instead, the bus accelerated. It hit a pole at the entrance to the East Side bus terminal on North Main St.
There were about a dozen people on the bus at the time of the crash. 8 riders, including a child, and the driver were rushed to the hospital to be checked out.
Blemur's wife answered the door when ABC6 went to get the bus drivers side of the story. She kept the door closed, but said her husband is doing "okay" and that he "remembers everything" about the crash. She would not elaborate further.
The driver has been with RIPTA for about 13 months and completed a standard safety course, according to officials.
"He started on the para-transit side and is now on a fixed route side," said Avedesian. "Thus far we haven't seen anything in his record that would show any other accidents in the past."
A state and local police investigation is underway. RIPTA is also conducting their own review. That process is expected to take 7 to 10 days.
(C) WLNE-TV 2016