Raimondo outlines broad testing strategy; RI's COVID-19 cumulative cases surpass 10,000
The governor said the state will reach 10,000 tests a day by July; 20,000 per day needed by September for schools to open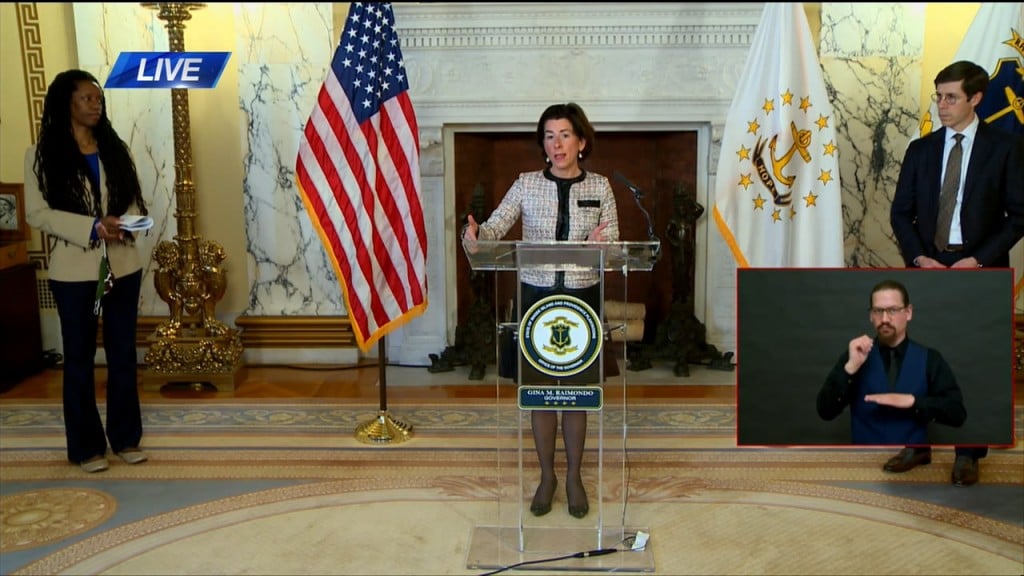 PROVIDENCE, R.I.– Governor Gina Raimondo highlighted the success the state has had with testing, and outlined a broad plan for expanded, comprehensive testing in her afternoon address Wednesday.
The state is averaging close to 3,000 tests a day, Raimondo said, with nearly 80,000, or 7 percent of the population, tested so far.
While the governor said this has outpaced the majority of the country, which is averaging 2 to 3 percent of the population, she set a much loftier goal of 10,000 tests a day by July.
If schools and colleges where going to be able to open in the fall, Raimondo said tests would have to reach 20,000 a day by the end of September.
The governor acknowledged it was a tall order but remained hopeful, as testing was a key component to keeping the economy open as the state enters her phased plans.
"We're going to get it done," Raimondo said.
The governor made several other announcements regarding testing, including:
—testing every staff member and resident of the state's nursing homes by Monday. The governor acknowledged testing once in group-living situations would not be enough, and repeated testing would have to conducted on a scheduled basis
— 5,000 random residents will be selected for antibody testing. The residents will receive a notice in the mail, and be asked to report to one of four Stop and Shop locations across the state. Participation is voluntary, but Raimondo urged residents to comply, in order to get a better sense of the virus's spread. The residents would receive both the standard diagnostic test to see if they are currently infected, and the antibody test to see if they had the virus already and recovered.
— expanded contact tracing. The governor said 100 employees at the Rhode Island Department of Health are dedicated to contact tracing, and the state was working on an app so residents would have greater flexibility in monitoring their own contacts, along with symptoms and scheduling testing. The app is a partnership software company Salesforce, and is expected to be online next week.
Raimondo said the state would soon have an "outbreak response team" in effect, which could be mobilized to contain an outbreak within four hours of it being identified.
Addressing the the state's plan to reopen businesses, with "Phase 1" expected to be enacted this weekend, Raimondo said new business regulations would be posted on the Reopening R.I. website later this evening.
The regulations will be tailored for specific industries, Raimondo said, and some would be fall under the category of "guidance" as opposed to required compliance. More specific guidance for retail operations is expected tomorrow.
All workplaces, however, would be required to screen employees for symptoms, ensure employees are wearing face coverings and maintaining 6 feet of distance, and provide access to hand-washing and sanitizer. Protocols on expanded cleaning procedures must also be followed.
Businesses would be required to show they are following the regulations, and be able to demonstrate that they have a plan in place if an outbreak occurs, Raimondo said.
Raimondo began the briefing with words concerning the upcoming Mother's Day holiday on Sunday.
"This year is going to have to be different," Raimondo said.
The governor urged residents not to hold large gatherings, even with the expected lifting of the stay-at-home order in advance of the weekend.
Citing evidence that shows the virus has been particularly deadly for older and immune compromised populations, Raimonodo relayed advice a medical professional had given her.
"If they love their mom, they won't go see her," Raimondo said.
The governor also acknowledged the dedication of the state's nurses, as Nurse's Week celebrations were launched  across the country on Wednesday.
Rhode Islanders were encouraged to "find a way to say thank you" to nurses on the front lines across the state.
"We're thankful for your bravery," Raimondo said.
RIDOH announced earlier Wednesday that 272 more people have tested positive for COVID-19, bringing the state's total to 10,205 cumulative cases.
An additional 15 deaths due to the virus were reported, bringing the state's death toll to 370.
There are 324 people in the hospital in Rhode Island, 86 are in the ICU and 60 are on ventilators.
©WLNE-TV/ABC 6 2020