RI's Reopening Phase 2 starts Monday so here's a list of what will open
RIDOH reported 106 new positive COVID-19 cases Sunday and 7 deaths. There were 3,979 COVID-19 tests recorded on Saturday.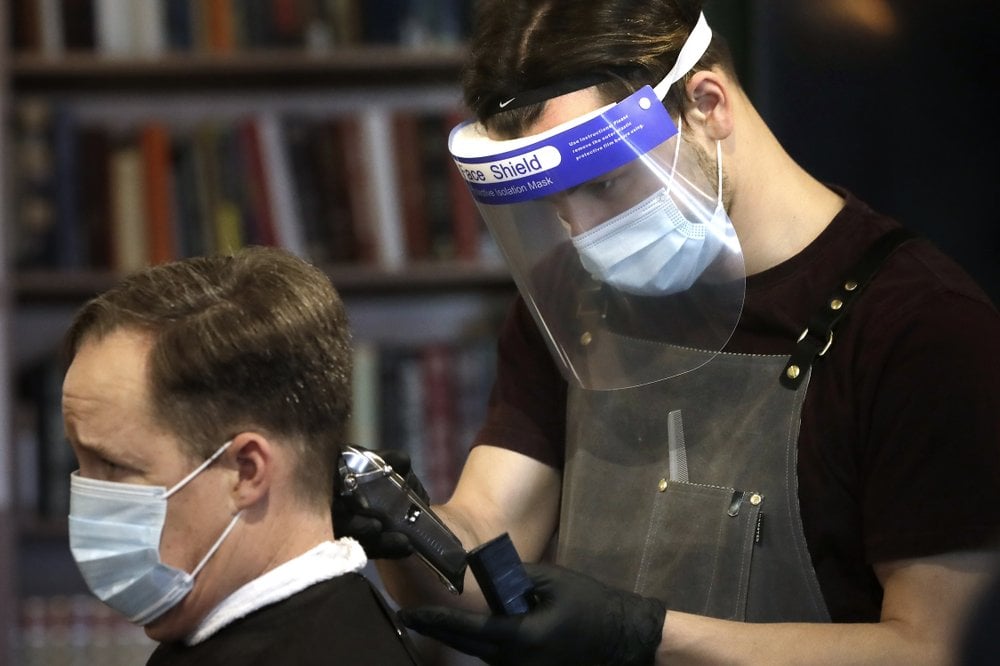 PROVIDENCE, RI (WLNE) – Gov. Gina Raimondo officially announced Friday that Phase 2 in Reopening Rhode Island's economy will begin on Monday.
Raimondo said she feels confident with Phase 2 starting on Monday after all four indicators that she used to guide her decision have been met.
So with Phase 2 officially starting on Monday here's a list of which types of businesses will open and the rules you'll have to follow:
Haircare & Personal Services
What you need to know:
Barbershops, salons, braiders, nail care, waxing, tanning, massage, and tattoo services can reopen in Phase 2

Physical distancing indicators should be clearly marked on the floor, six feet apart
If the haircare or Personal Service establishment isn't ready to service you they will ask you to remain outside of the building or in your car
These establishments will operate by appointment only
Hair professionals must wear a new or thoroughly disinfect smock for each service
Hair professionals and customers must each wear a face covering for the duration of the service.
Establishments will ensure a minimum of 6 feet between stations and/or install a plastic non-porous barrier between stations
Establishment will for outdoor airflow
Establishments must provide supplies such as hand sanitizer with at least 60% alcohol for customer use
Establishments will minimize the number of guests in the building and may consider removing furniture from the waiting area.
Gyms, fitness studios, and small group fitness
What you need to know:
Locker rooms, close communal areas, and showers will be closed
Fitness centers will provide hand sanitizer before and after workout sessions
Members are encouraged to build cohorts that remain consistent in class settings
Fitness centers will allow for outdoor airflow by opening windows or doors to fresh air
Employees will thoroughly sanitize equipment between users
Fitness centers will establish 6-foot social distancing between the equipment and walkable pathways.
Masks must be worn if you are within 6-feet of someone else
Gyms will be encouraged to host activity outdoors
Indoor Dining
What you need to know:
Outdoor dining is already allowed but starting Monday restaurants will be allowed to open their indoor dining rooms and serve up to 50% capacity
RIDOH says guests should especially wear masks when not seated at their table
Parties will be limited to 15 people or fewer
Seating will be by reservation only
Restaurants will have to establish 8 foot of spacing between tables' edges in accordance with guidelines
Restaurants will have to provide hand sanitizer with over 80% alcohol
Menus should be disposable or have the ability to be sanitized after each use
Bar seating is allowed with restrictions
State Beaches
What you need to know:
Starting June 1 all-state beaches will be allowed to open with restrictions
Practice social distancing; stay at least 6 feet from others even in the water (unless you live in the same house)
Do not wear a face covering while swimming or playing in the waters
Wash your hands often with soap and water for at least 20 seconds

TIP: Bring hand sanitizer with at least 60% alcohol in case soap and water are not available

Listen for loudspeaker announcements that provide updates and important safety reminders
Check with individual beaches to see if concession stands and bathrooms are open
Cashless payment options to pay for entry are encouraged
Parking and attendance will be limited to prevent overcrowding
If available, pre-order food online or by phone from concession stands
Houses of Worship
Houses of worship will be allowed to reopen to in-person worship up to 25% capacity with restrictions
Houses of worship will have to suspend choir or musical ensembles; individuals singing must be at least 14 feet apart from others
Face coverings are required
It's recommended that attendees be required to sanitize their hands upon entry inside
The social distancing of at least 6 feet must be practiced unless you are within the same household
Other notable reopenings starting June 1
Non-critical retailers can further relax restrictions to allow for more customers in their stores. Malls can reopen with restrictions.
Outdoor entertainment and recreation activities (ex: Zoos and historical sites) are allowed to resume on a limited basis
Child care services can resume on June 1. Summer camps and small group youth sports practice to resume June 29 with restriction.
All state parks will be allowed to reopen (if they aren't already) with capacity limitations and social distancing restrictions
Domestic travel restrictions will be relaxed.
Social gatherings limited to 15 people
Office-based businesses can allow up to 33% of their workforce to return, if viewed as necessary. Everyone who can work from home should continue working from home
Source: Reopeningri.com
FRIDAY COVID-19 UPDATE:
The Rhode Island Department of Health (RIDOH) reported 122 new positive COVID-19 cases Friday and 16 deaths. There were 3,226 COVID-19 tests recorded on Thursday.
The state's death toll nears 700 as it now stands at 693, according to RIDOH data.
Rhode Island's cumulative COVID-19 case total is now at 14,635.
There are 219 people in the hospital, 47 in the ICU, and 33 are on Ventilators.