RISD grad among nominees at Oscars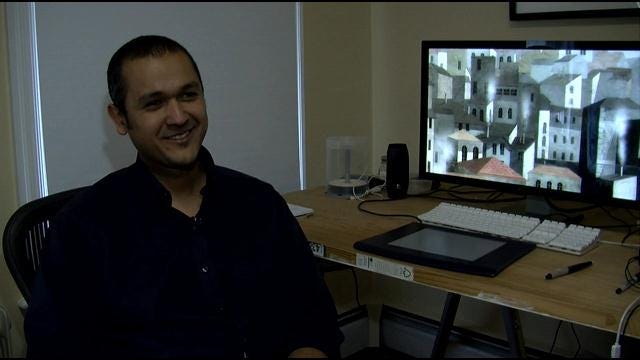 By: Alexandra Cowley
A RISD grad and Rhode Island resident will be among the stars in Hollywood Sunday night. Daniel Sousa's 'Feral' is nominated in the animated short film category. We sat down with Sousa before he left for the Oscars to find out what went into his short film that grabbed the Academy's attention.
"It's really a dream come true and it's amazing," he explained.
39–year–old Daniel Sousa spent five years sketching a 12–minute work of art in his Pawtucket office.
Sousa worked on his graphic design, "you keep adding more frames or you can add more between these two."
In between teaching classes at his Alma mater, the Rhode Island School of Design, and taking on freelance projects, Sousa found time to bring his ideas to life in the short animated film Feral.
"I knew I wanted to explore this sort of duality between our intellects and our animal drives," said Sousa.
Feral is about a boy who grows up in the woods. He's found by a hunter and brought into civilization. The boy doesn't mesh with society and returns to the woods. The ending is left for the viewers interpretation.
Sousa said, "I was surprised that it was picked by the Academy because it is slightly darker and it's not a crowd pleaser."
The Oscars won't be Sousa's first glimpse of red carpet worthy stars. He's already dined next to Leonardo DiCaprio at the nominees luncheon.
"That was just completely out of this world," Sousa said.
Sousa is nominated with friend Dan Golden, also a RISD grad. Golden did all the music for the film.
"We can communicate in visual terms and translate my ideas into sounds," he said.
Sousa says he's honored to have been nominated and even if he doesn't walk away with an Oscar, he hopes the spotlight will give him the recognition he needs to have his dream job full-time. But for now, he's enjoying this incredible journey.
"It's a great ride," smiled Sousa.
Stay with ABC 6 News For Oscar Night Coverage.
(C) WLNE-TV 2014