Rise in road rage incidents causes concern in New England, but not all bikers to blame
"Call the police, and do not engage with these individuals," warns Chief Ruggiero.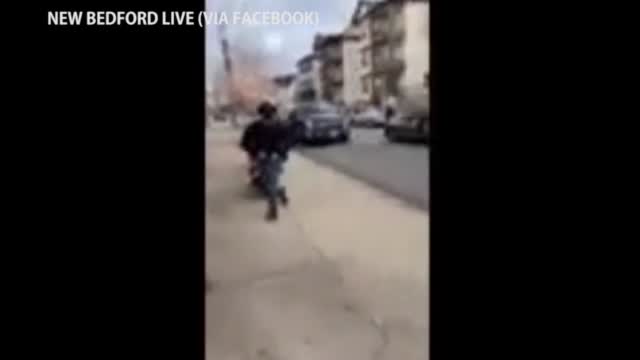 NEW BEDFORD, Mass. (WLNE) — A dangerous rise in road rage incidents involving ATVs, dirt bikes and scooters are causing concern as the weather warms up for riding season — with some groups hoping not to be stereotyped as part of a bad bunch.
Tyler Rose, a member of the popular motorcycle group Mass Secret City Riders, said while large groups of bikers can be intimidating, most of the time motorcyclists aren't to blame for these types of attacks.
Many times, a pack of motorcycles will go out for a cause such as a charity ride, children's birthdays, those homebound due to medical reasons, or to simply show support for a family in need.
"Most of the time when we go to these events it's three, four, five hundred motorcycles. And so when we pull in, it sounds like what you would see on tv, but what it sounds like — it's not the case," said Rose.
For Mass Secret City Riders, several members are designated as "safety riders" to ensure the pack's safety during large gatherings.
The trouble, he explained, comes when other riders attach themselves to the group.
"Because the dirt bikes and ATV's aren't involved in any of that, they kind of blend into our pack of motorcycles. They have no idea what's going on, and that's where you see a lot of the crazy stuff happening," he said.
On major roadways, Rose said the group is sometimes able to outpace those they sense may be harmful to the group or others.
"We know we're faster than most of the ATVs on motorcycles, that can only go 45 or 55 miles per hour so on the highway we usually lose most of that pack. But in the inner cities, there's really nothing we can do about it," said Rose.
According to Rose, a concerning common factor about many of these attacks is the age of assailants.
"Nine times out of ten, when the helmets come off, they end up being kids," explains Rose. "I mean what do you say or do to somebody that's a 16 year old, 17 year old kid who is out riding a dirt bike? 'What you're doing isn't safe,' is something you could say, but as far as telling them to remove themselves from the ride? They just don't care," he said.
"Leisure riders, they are obeying the laws. Where the people that are driving other modes of transportation are riding up on the sidewalks, causing havoc," explained North Providence Police Chief Alfredo Ruggiero.
Casual riders on street bikes and motorcycles, he explains, tend to work well with local officials to strategize before "ride-outs" or large gatherings.
With an uptick in violent incidents, including one in New Bedford where a man was stabbed following a road rage incident with two people on scooters, Ruggiero urges residents: "Call the police, and do not engage with these individuals."
Is there a path to safer streets? Rose says there may be.
"It's tough for anybody who is into that activity that wouldn't consider themselves a professional dirt bike rider or an ATV rider. It's hard for them to even go out into the woods without being in jeopardy of getting their bike confiscated by environmental police," Rose explained. "Anything that anybody wants to do regarding ATVs is essentially outlawed. If there were an open area where you could essentially just ride your ATV in a normal situation through a forest or things like that. I think it would be a great opportunity for people to take advantage of getting the dirt bikes off the streets."