RISPCA offering $2,500 reward for information on severely neglected dog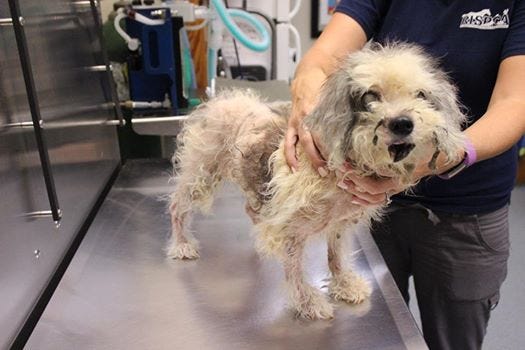 By: Chloe Leshner
cleshner@abc6.com
@ChloeLeshner
WEST WARWICK, R.I. (WLNE) — The president of the Rhode Island SPCA says it seems animal neglect cases are becoming more common. Another dog was found in terrible condition, this time in West Warwick. The dog is in such bad shape, the reward for information about her owner has been raised to $2,500.
The RISPCA is determined to find Molly's owner. She's been neglected for years and is facing several different health problems as a result.
Molly has a long road ahead, the extremely neglected dog in much better hands at the RISPCA.
"Molly is 10 years old. She looks much older than she is. She has a multitude of medical conditions as a result of human neglect over the course of years, not months, years," says Dr. E.J. Finocchio, the President of the RISCPA.
She has a skin condition leaving her itchy, tumors, she's blind and even her jaw is deteriorating.
"The person will most definitely face charges of neglect," says Dr. Finocchio.
Molly was turned in to West Warwick Police by a man who says he found her on Main Street by the public library. She had a collar and name tag on but the man who turned her in kept the name tag.
"The people say they found them when in fact they fabricate the story, they're really their dog. I'm not saying this is that persons dog, but many times that is the situation," says Finocchio.
Somehow, Molly is in good spirits and a donor helped raise the reward for information leading to an arrest of the person who left her this way to $2,500.
Dr. Finocchio says situations like this are happening more frequently, a sign more has to be done on the legal side.
"What's very disturbing is what's happening to these people who are convicted of these crimes, it seems not enough is happening to them," he says.
Molly does have a microchip that traces back to Kansas and Rumford Pet Center here in Rhode Island. They're still working to see if they can trace her to a specific owner.
The good news, Dr. Finocchio says if all goes well, she'll be up for adoption in a few months.
(C) WLNE/ABC 6 2018