RISPCA saves sick puppy handed out in Roger Williams Park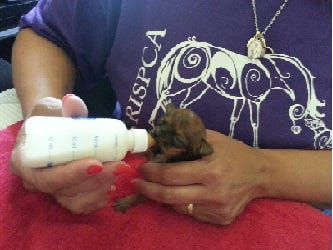 Dee DeQuattro
A Chihuahua puppy was turned into the Rhode Island Society for Prevention of Cruelty to Animals after a man was handing them out at Roger Williams Park on Wednesday.
The puppy, named Stella by ABC6 News Reporter Melissa Toupin, is estimated to be three weeks old and suffers from an eye ulcer. The RISPCA says depending on the severity of the ulcer the puppy may have to have its eye removed.
While the man handing out the puppies was not technically breaking any law the RISPCA says the puppies were far too young to be separated from their mothers.
Puppies are meant to stay with their mothers until at least eight weeks of age.
At this point it is unclear how many other puppies were handed out at the park.
(C) WLNE-TV 2012