Ritchie Tallies Goal, Assist To Help Bruins Beat Stars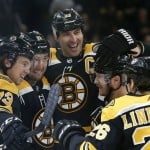 BOSTON (AP) — Nick Ritchie had a goal and an assist for his first points since Boston acquired him at the trade deadline to help the NHL-leading Bruins beat the Dallas Stars 4-3 on Thursday night.
Brad Marchand broke a second-period tie and Ritchie scored 1:27 later to make it 3-1. Then, after Denis Gurianov cut the deficit to one early in the third, Ritchie fed David Pastrnak in the slot to again make it a two-goal game.
Jaroslav Halak stopped 31 shots, and Charlie Coyle scored on a double-tipped swat out of the air for Boston. The Bruins snapped a two-game losing streak.
John Klingberg and Miro Heiskanen also scored for Dallas.