Robbery at Sam's Mobil in New Bedford, suspect at large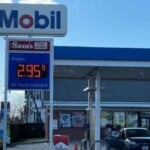 NEW BEDFORD, R.I. (WLNE) — The New Bedford Police Department said a robbery occurred early Sunday morning at a local gas station.
According to police, they responded to a call for a robbery at Sam's Mobil gas station at 367 Ashley Blvd.
No information regarding injuries or a suspect was immediately released.
Authorities were able to confirm that the incident occurred and it remains under investigation.
Anyone with information about the robbery or any other similar incident should contact New Bedford police at (508) 991-6300.
Tips can also be submitted anonymously to (508) 961-4584.