Robert Kraft speaks out for the 1st time on the Hernandez case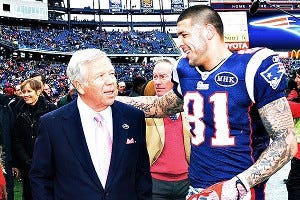 By:News Staff
Twitter: @ABC6.com
Robert Kraft the owner of the New England Patriots has spoken out for the first about the Aaron Hernandez case.
Meeting with reporters, Kraft said: If the reports are true, then the whole organization was duped by Hernandez. He went on to say the team is re-evaluating the entire organization.
Kraft just returned from a trip to Europe, where he learned Hernandez was charged in Odin Lloyd's murder. He states the decision to release Hernandez was made the week before his arrest, the feeling was anyone that close to a murder investigation had no business wearing a Patriots uniform.
©WLNE-TV
Photo courtesy: ESPN