Roger Williams Law professor comments on Trump Indictment
PROVIDENCE, R.I. (WLNE) — A Roger Williams University law professor told ABC 6 News on Thursday, there must have been solid evidence for a grand jury to hand up indictments against former President Donald Trump.
"The prosecutor in Manhattan would not have presented this case to the grand jury unless he was convinced that there was not only sufficient evidence, but rather an overwhelming amount of evidence that convinces him that he will be able to obtain a conviction," Professor Andrew Horwitz said.
The case is relating to events prior to the 2016 presidential election of an alleged "hush money payment" of $130,000 dollars to porn star Stormy Daniels.
Horwitz said, "of the pending investigations in some ways one could say this one is the least serious."
Congressman David Cicilline released a statement on Thursday saying, "this is a difficult moment for our country, but it's important that we respect the work of the District Attorney and the decision of the grand jury to charge Mr. Trump and allow this matter to proceed as it would with any other defendant."
Senator Sheldon Whitehouse taking to Twitter to share his thoughts on Thursday as well, saying, "a grand jury made this decision, under the supervision of sworn officers of the court. A criminal jury will decide the case, after open trial. No one is above the law."
Rhode Island GOP Chairman Joe Powers releasing a statement that was critical of the indictment.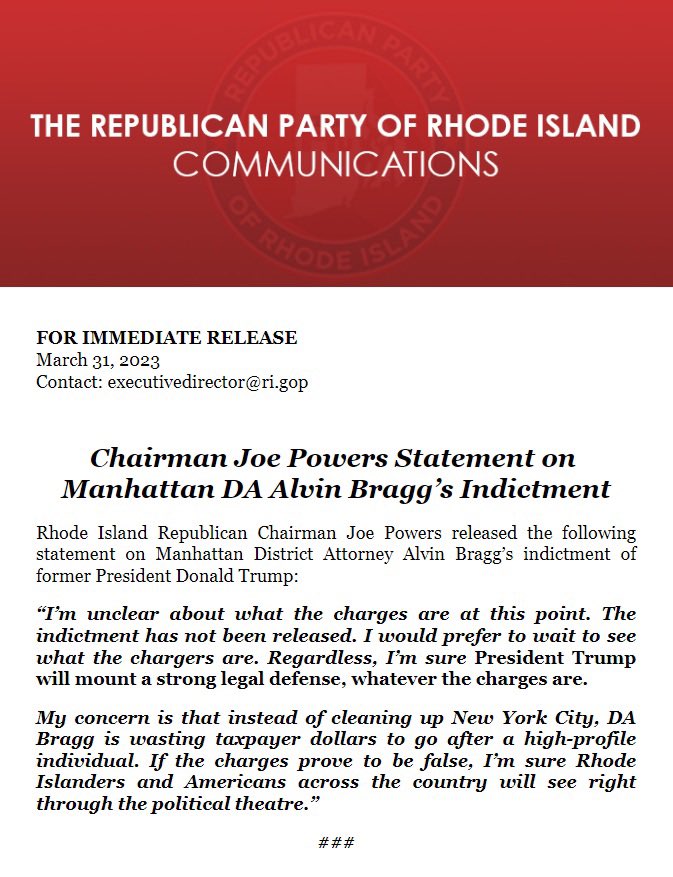 Professor Horwitz says picking a neutral jury in this case will be nearly impossible, but he supports the judgement in this process.
"I do have faith that when and if this case gets to a jury, that the jurors will listen to the evidence, and vote accordingly," Horwitz added. 
ABC 6 News reached out to the chair of the Rhode Island Republican Party and the Rhode Island House Republican Caucus for comment, but both declined to comment or did not get back.