Roger Williams Park Zoo donates tanks to Fall River pet store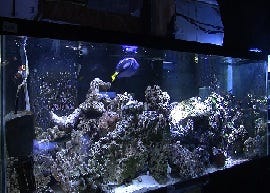 Olivia Cianci
news@abc6.com
Roger Williams Park has donated two large tanks to a pet supply store in Fall River that was vandalized over the winter.
On February 20th, Animal Instincts Aquarium and Pet Supply Center was broken into, robbed and vandalized by an unknown man. Caught on surveillance video, the man is seen ripping out the store's computer system, breaking the counter, cracking open a 15 gallon tank, and smashing a 180 gallon tank that contained more than two dozen exotic fish and 40 different types of coral. The store was almost gone for good.
Now, nearly six months later, the store has been kept open thanks to fundraiser's and donations from locals and regulars.
The tanks donated by Roger Williams Park Zoo are 700 and 900 gallon tanks which can go for thousands of dollars.
Animal Instincts is recovering from the break in, but despite the $1,000 reward issued for any information leading to an arrest, the suspect has yet to be captured.
Please contact the Fall River Police Department (508-676-8511), or the Animal Rescue League of Boston's Law Enforcement (617-226-5610 or 617-426-9170) with any information regarding the break in.